Media Asia
published by AMIC and Routledge Taylor & Francis Group
Media and the "New Normal"
SPECIAL CALL FOR PAPERS
If you're researching the "new normal," perhaps the normal thing to do is to consider Media Asia.
The peer reviewed journal is published by the Asian Media Information and Communication Centre (AMIC) and Routledge Taylor & Francis Group. Established in 1974, it focuses on studies and practices in journalism, advertising, public relations, entertainment and other aspects of media in Asia.
Manuscripts should analyze issues related to the media's role in the "new normal" in Asia. These are some topics worth exploring:
"New normal" in the context of media studies (e.g., increasing role of the Internet, changing broadcast landscape, relevance of print)
Work-from-home arrangements of journalists and media workers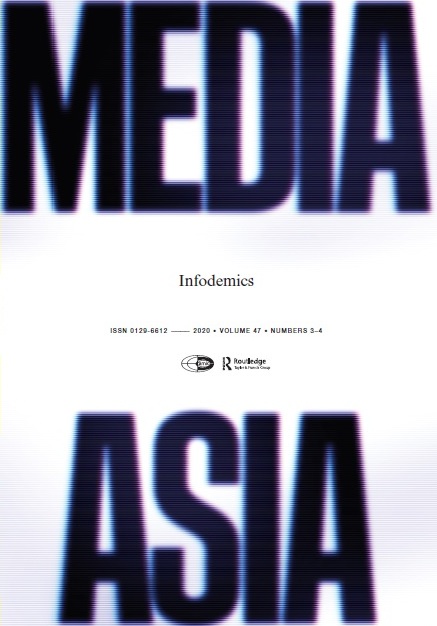 Changes in media production and distribution
Evolving media consumption
Marketing trends and the rise of e-commerce
Local governance, community communication and social media
Scientific and technical information seeking, dissemination and understanding
Media and mental health amid the changing environment
Media education and the new modes of learning
Intensification of digital divide within and among Asian countries
Online media and misinformation
Prevalence of hate speech and disinformation during lockdown and beyond
"New normal" as a tool to repress the media (e.g., lockdown as crackdown, censorship)
"New normal" and new "futures" (e.g., risk communication and behavior change)
Authors are free to submit other topics related to the media and the "new normal."
Media Asia accepts original articles to be evaluated by at least two reviewers, as well as non-refereed commentaries and reviews of "new normal"-related books, films, TV shows, plays and other media. Original articles should not exceed 10,000 words, while non-refereed ones should have 1,500 words (if written journalistically) or 3,000 words (if written academically). Please note that original articles and academically written commentaries and reviews should use APA 7th edition citation style. For more details, please go to the Information for Authors section of Media Asia's website (https://www.tandfonline.com/action/authorSubmission?show=instructions&journalCode=rmea20).
Authors of refereed articles are assured of a fast turnaround time. Based on our journal accountability report for 2020 (https://amic.asia/media-asia-journal-accountability-report-january-december-2020/), the average number of days from submission to online publication of refereed articles is 161 days.
For this special call for papers, Media Asia does not have a deadline because refereed manuscripts are published as soon as they pass the scrutiny of at least two reviewers. In the case of non-refereed ones, they are published once approved by the Editorial Board.
Media Asia is indexed in Scopus, EBSCO Research Databases (Bibliography of Asian Studies, Associates Programs Source Plus, Communication & Mass Media Complete, Communication Source, Military Transition Support Center, Vocational Studies Complete), ProQuest (Business Premium Collection, Asian & European Business Collection, ProQuest Central, ProQuest Central Basic, ABI/INFORM Professional Advanced, SIRS Editorial, eLibrary), Dimensions, IngentaConnect and Informit.
Interested authors may submit online at https://rp.tandfonline.com/submission/create?journalCode=RMEA.
The journal's editor is Danilo Araña Arao (University of the Philippines Diliman). The associate editors are Lisa Brooten (Southern Illinois University Carbondale), Pamela A. Custodio (University of the Philippines Los Baños), Roselyn Du (California State University Fullerton), Ma. Theresa M. Rivera (Far Eastern University Manila) and Nick Y. Zhang (Hong Kong Baptist University). The members of the Editorial Advisory Board are Sarah Cardey (University of Reading), Ataharul Chowdhury (University of Guelph), Minjeong Kim (Hankuk University of Foreign Studies), Srinivas Melkote (Bowling Green State University), Eunice Barbara C. Novio (Vongchavalitkul University) and Paromita Pain (University of Nevada Reno).
For any questions, please send an email to media.asia@amic.asia. Follow Media Asia's Twitter account on @MediaAsiaJourn.