AMIC hosts Dialogue on Commonalities, Diversities, and Complexities of Asian and Western Communication Theories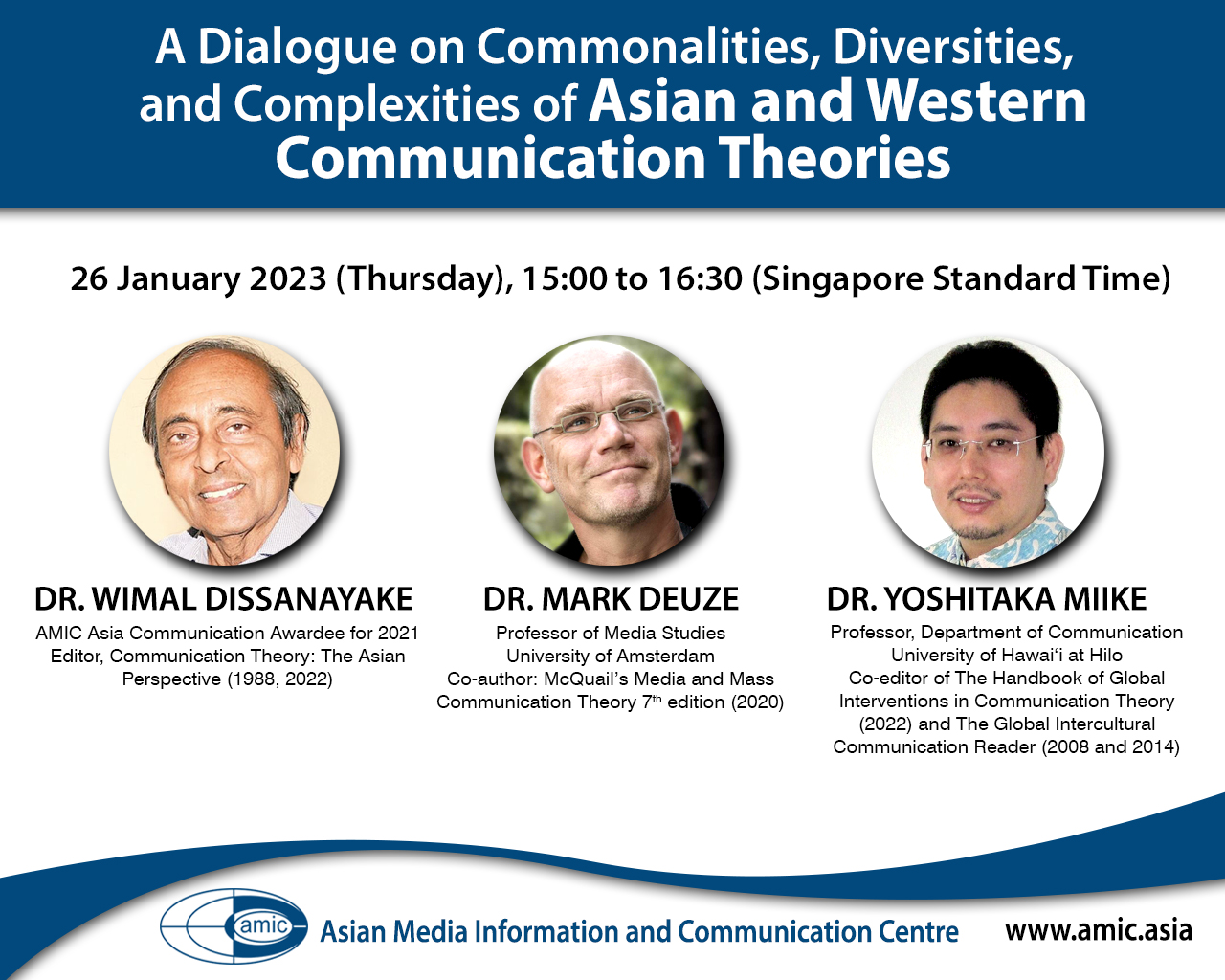 Over 200 communication scholars and educators joined the online Dialogue on Commonalities, Diversities, and Complexities of Asian and Western Communication Theories hosted by the Asian Media Information and Communication Centre, Inc. (AMIC) last 26 January.
Resource persons at the webinar were Dr. Wimal Dissanayake, 2021 AMIC Asia Communication awardee and editor of the book 
Communication Theory: The Asian Perspective; Dr. Yoshitaka Miike, professor at the Department of Communication of the University of Hawaii at Hilo;  and Dr. Mark Deuze, professor of media studies at the University of Amsterdam.
Dr. Crispin C. Maslog, Chair, AMIC Board of Directors, said "it is time we de-colonize Asian communication scholarship," pointing as an example the shared values between Filipino and American-Indian culture — strong family ties, respect for the elderly, humility, and debt of gratitude.
Maslog, who has taught at an US Indian reservation college, said Native American style of communication "resembles the traditional way of communication among Filipinos long before the Americans and other Westerners came."
In his statement read by AMIC Secretary-General Ramon R. Tuazon, Dissanayake focused on the relationship between globalization and Asian communication theory. "One important aspect of globalization is the sharing of cultural riches by Eastern countries with Western countries."
He said it is important to study "Asian communication sharing knowledge with Western countries."
Deuze prompted participants to take a closer look at whether technology is a tool or a crutch "to further the autonomy of people as communities." He encouraged scholars and journalists to produce stories "that connect and unite peoples without requiring them to become all the same."
Miike said, "too much focus is given to mass media, communication technology and development communication in Asian schools of communication," that even interpersonal and intercultural communication "are not flourishing, not to mention communication ethics and environmental communication."
 In his closing remarks, Dr. Dadang Rahmat Hidayat, Dean, School of Communication, Universitas Padjadjaran (UNPAD), invited participants to the 29th AMIC Annual Conference, in which UNPAD is institutional co-host.