AMIC Country Representative edits newly launched Bengali daily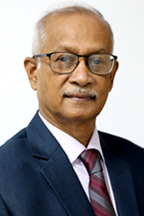 Ajker Patrika, a daily hit the market in Bangladesh on 27 June 2021 and became third highest circulated newspaper in four months of its inception.
A Bengali daily with a slogan, "Country's Local Newspaper," with 10 editions became popular among families in the country. Ajker Patrika publishes the highest number of regional editions emphasizing regional news to cater its local readers in the country.
Keeping proximity as a focus, the paper strives to provide the readers with relevant news, as well as investigate and explain news and events in detail. The paper has a working force of about 550 people, along with a network of 350 correspondents across the country. The paper is equally popular with its e-paper and online services.
A group of young, enthusiastic journalists and business professionals have joined the ranks and are led by industry veterans with many years of domain knowledge and experience. The Editor of Ajker Patrika Professor Dr. Md. Golam Rahman is a leading educationist, media researcher and communication expert of Bangladesh. He has served as the Chief Information Commissioner of Government of Bangladesh and also served as the Chairman of Bangladesh Sangbad Sangstha (BSS), a national news agency as well as the Chairman of the Department of Mass Communication and Journalism of University of Dhaka. He taught about four decades in the university.
Ajker Patrika has introduced a section called 'fact-checking,' because of fake information that are occupied in social media. The paper adopts a multilevel fact-checking process to confirm the overall authenticity of the news before publishing it on the print or digital platform. The paper maintains its Ethics Policy.
Ajker Patrika belongs to Bijoy Bangla Limited and is a sister concern of US-Bangla Airlines.