Media Asia increases citations, sustains
fast turnaround time in its golden year
By Danilo Araña Arao
Editor, Media Asia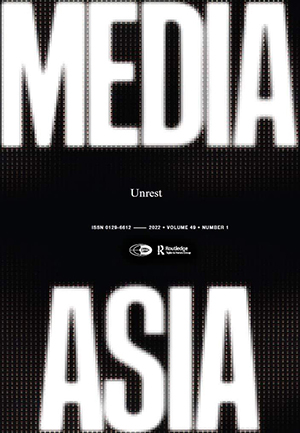 As Media Asia celebrates its 50th year in 2023, the journal's citation metrics show improvement as the turnaround time is sustained.
The journal's latest CiteScore (https://www.scopus.com/sourceid/23067) has improved to 0.8 as of January 5, 2023. Based on Scopus data, this score is based on Media Asia's 52 citations out of 65 indexed documents to date.
When the new editorial board took over in 2020 and Media Asia got re-indexed on Scopus, the CiteScore ranged from 0.0 to 0.5.
For the past three years, the five most cited articles were published in 2020 and 2021. They all focus on media and the COVID-19 pandemic (https://www.tandfonline.com/action/showMostCitedArticles?journalCode=rmea20).
In 2022, new manuscript submissions increased by 10.6 percent compared to 2021. This is the case even if the latest rejection rates are pegged at 84.93 percent (refereed articles) and 58.47 percent (non-refereed editorials, commentaries and reviews).
Based on unsolicited feedback from some authors, they seem to appreciate the relatively quick turnaround time (TAT) that does not compromise the quality of editorial and peer reviews. As of this writing, the average TAT from submission to online publication for refereed publications is 214.00 days. On the other hand, the average TAT for non-refereed ones is 49.96 days.
Media Asia is a peer reviewed journal that focuses on practices in journalism, advertising, public relations, entertainment and other aspects of media in Asia. The journal's editorial board is composed of nine women and four men who are based in nine locations in Asia, Europe and North America.
The Editor is Danilo Araña Arao (University of the Philippines Diliman, Philippines). The Associate Editors are Lisa Brooten (Southern Illinois University Carbondale, USA), Roselyn Du (California State University Fullerton, USA), Paromita Pain (University of Nevada Reno, USA), Ma. Theresa M. Rivera (Far Eastern University Manila, Philippines) and Nick Y. Zhang (Hong Kong Baptist University, Hong Kong).
The members of the Editorial Advisory Board are Sarah Cardey (University of Reading, UK), Ataharul Chowdhury (University of Guelph, Canada), Minjeong Kim (Hankuk University of Foreign Studies, South Korea), Eunice Barbara C. Novio (Vongchavalitkul University, Thailand), Sheau-Wen Ong (Wenzhou-Kean University, China), Deborah N. Simorangkir (Swiss German University, Indonesia) and Tom Sykes (University of Portsmouth, UK).