New Books published by AMIC UAE Country Representative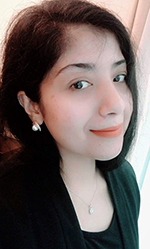 Dr. Sadia Jamil, AMIC Country Representative for the United Arab Emirates and Chair of the Journalism Research and Education Section of the International Association for Media and Communication Research (IAMCR), has announced the publication of three books that she has edited or co-edited.
These are: 1) Combating Threats to Media Freedom and Journalist Safety (IGI Global, 2019); 2) Discrimination, Gender Disparity, and Safety Risks in Journalism (IGI Global, 2020), co-edited with Professor Baris Coban, Professor Bora Ataman and Dr. Gifty Appiah-Adjei; and 3) Ethnic Journalism in the Global South (2021, Palgrave MacMillan), co-edited with Ana Gladkova.
In addition to these volumes, Jamil said that during the past two years, she has produced book chapters  as well as articles which she contributed to several peer-reviewed journals.
Jamil said,  "Research has never been just a career for me, rather it is a passion that drives me. I have ten years of academic research experience, and the passion to create knowledge keeps growing."
She added that the past two years were challenging for all (academics) as they all continued to struggle with the impacts of COVID-19 pandemic on their personal and professional lives.
"But I call the 'pandemic period' as the most productive time of my research career as I could focus on writing…"