Media Asia's journal ranking improves, publishes issues ahead of schedule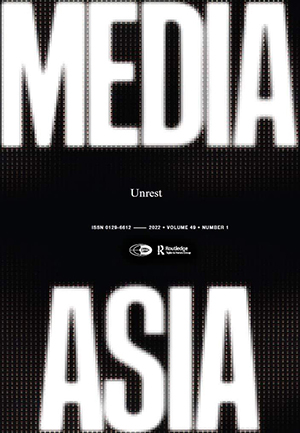 By Danilo Araña Arao
Editor, Media Asia
Media Asia continues to improve journal ranking as it publishes issues ahead of schedule.
Based on Scimago Journal & Country Rank data as of April 2022 (https://www.scimagojr.com/journalsearch.php?q=23067&tip=sid&clean=0), the quarterly journal's highest quartile ranking is pegged at Q2 (Linguistics and Language). Scimago's metrics are based on Scopus data which compute Media Asia's CiteScore 2021 at 0.5 (https://www.scopus.com/sourceid/23067).
Aside from Scopus, the quarterly journal is abstracted and indexed in EBSCO Research Databases (Bibliography of Asian Studies, Associates Programs Source Plus, Communication & Mass Media Complete, Communication Source, Military Transition Support Center, Vocational Studies Complete); ProQuest (Business Premium Collection, Asian & European Business Collection, ProQuest Central, ProQuest Central Basic, ABI/INFORM Professional Advanced, SIRS Editorial, eLibrary); Dimensions; IngentaConnect; Portico; Informit full text content; and J-Gate.
Based on the final decisions on submitted manuscripts from 2020 to 2022 (as of April only), Media Asia's acceptance rates are computed at 10.65% (refereed articles) and 46.31% (non-refereed editorials, commentaries and reviews).
As of the first semester of 2022, the March, June and September 2022 issues of Media Asia are already published. As early as now, the issue line-up for December 2022 is already final and is expected to be published ahead of schedule as well. The issue themes for 2022 are Unrest (March), Struggles (June), Body Biases (September) and Mediated Youth (December).
Since the current editorial board took over in 2020, the journal has had increased manuscript submissions while successfully being re-indexed in Scopus. It has also established its presence on social media through its Twitter account @MediaAsiaJourn.
Published since 1974, Media Asia is a peer reviewed quarterly journal that focuses on practices in journalism, advertising, public relations, entertainment and other aspects of media in Asia. It publishes relevant media-related studies in Asia like freedom, ethics, working conditions, ownership, campus press, community press, corporate media, alternative media, literacy, language and culture of impunity.