Dr. Alviola named AMIC Country Rep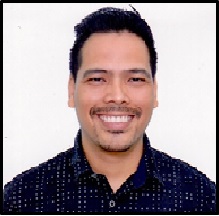 Dr. Ulderico B. Alviola, founding head of the University Integrated Media Centre (UIMC) at the Visayas State University (Philippines),  is the newly designated Country Representative for the Visayas of the Asian Media Information and Communication Centre (AMIC). 
As the designated Philippine Representative for the Visayas Cluster, Dr. Alviola is joining two other Country Representatives— Dr. Rowena Capulong Reyes for Luzon and Dr. Christine Faith M. Avila for Mindanao.
Dr. Reyes is the Dean of the Institute of Arts and Sciences (IAS) of the Far Eastern University (FEU) while Dr. Avila is an Associate Professor of the communication program of Ateneo de Davao University (ADDU). 
Dr. Alviola is faculty member at Department of Development Communication at Visayas State University (VSU), President of the Association of Development Communication Educators and Practitioners (ADCEP) Philippines, and Vice President for the Visayas of the Philippine Association of Communication Educators (PACE). 
He has also served  in various capacities as communication specialist and consultant in many national and international agencies and organizations, such as the Asian Institute of Journalism and Communication (AIJC), United Nations International Labour Organization (UN-ILO), Islamic Relief Worldwide (IRW); ChildFund Philippines, Biodiversity Management Bureau (BMB), Philippine Council for Agriculture, Aquatic and Natural Resources Research and Development (PCAARRD), National Council for Children's Television (NCCT), Yolanda Rehabilitation and Recovery Program (YRRP) of the Department of Agriculture (DA), and Australian Centre for International Agricultural Research (ACIAR). 
Dr. Alviola was  a former Rappler Ambassador, a community journalist, and a regional correspondent in Eastern Visayas for MovePH. 
Of his appointment, Dr. Alviola said: 
"I'm personally grateful to Prof. Ramon R. Tuazon for this designation as the new Country Representative of the Philippines to AMIC. I hope that this assignment will lead me to expand further my network and help me connect our colleagues from the Visayas region to this prestigious international organization…" 
Dr. Alviola completed his undergraduate degree in Development Communication at the former Leyte State University (now VSU), Cum Laude, and his Straight Doctor of Philosophy (PhDS) in Development Communication at the University of the Philippines Los Baños (UPLB) under a joint scholarship grant from the German Academic Exchange Service (DAAD), and the Southeast Asian Regional Center for Graduate Study and Research in Agriculture (SEARCA).