Communication Theory: The Asian Perspective 2022 edition launched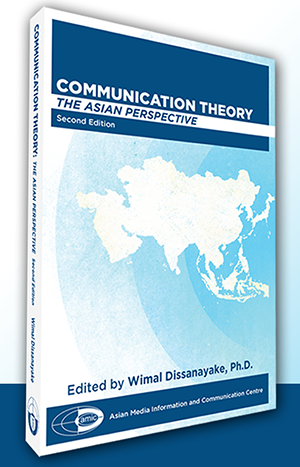 The 2022 edition of COMMUNICATION THEORY THE ASIAN PERSPECTIVE was launched on 04 December 2021, the last day of the 28th AMIC Annual Conference. This authoritative reference on the foundations of Asian communication scholarship is published by the Asian Media Information and Communication Centre (AMIC) as it celebrates its 50th founding Anniversary. A revised edition of the 1988 original, it contains old and new articles written by Asia's leaders in communication and journalism theory and research. 
When AMIC was founded in 1971, its founders' vision was to establish a regional organization which would commit themselves to enrich and expand the global communication setting with Asian communication theories, perspectives, paradigms, values, and practices.
AMIC celebrated the first publication of Communication Theory: The Asian Perspective in 1988 as a resource for rediscovering Asian communication theories and how to go about such rediscovery.
Fifty years later, the book's 1988 and 2022 editor, Dr. Wimal Dissanayake, says,  "We are beginning to observe the emergence of a sub-field of Asian communication theory studies…"
In this new version, Dr. Wimal Dissanayake asks and answers five key questions related to the exploration of Asian theories of communication: 1) Why is it important to direct our attention to Asian approaches to communication research and theory? 2) In what ways does research into Asian communication theories offer challenges to the ruling intellectual cartography of communication studies? 3) What progress have we made so far in Asian communication research and theory and what is its significance and impact? 4) What are some of the obstacles and challenges we still are likely to encounter? and 5) In what ways can we productively overcome these challenges?
Table of Contents
Foreword — Ramon R. Tuazon
Foreword — Vijay Menon
Introduction to the Previous Edition – Wimal Dissanayake
Introduction to the New Edition – Wimal Dissanayake
1. The Need for Asian Approaches to Communication – Wimal Dissanayake
2. Deep Structure and Communication – Lawrence Davis
3. Foundations of Indian Verbal Communication and Phenomenology – Wimal Dissanayake
4. The I Ching as a Symbolic System of Integrated Communication – Chung Ying Cheng
5. Taoism and the Chinese View of Literary Communication – Kwok-Kan Tam
6. Mass Communication Theory: A Chinese Perspective — Leonard L. Chu
7. The Individual in Japanese Discourse: The Artist as Speaker – Linda C. Ehrlich and Naomi Tonooka
8. Japanese and American Modes of Communication
and Implications for Managerial and Organizational Behavior – Muneo Jay Yoshikawa
9. Communication Theory and Islamic Perspectives – Majid Tehranian
10. In Search of An Asian Perspective of Communication Theory – Godwin Chu
11. Go East young 'man': seek wisdom from Laozi and Buddha
on how to metatheorize mediatization – Shelton Gunaratne
12. Communication Theory-Building at the Periphery: The Broken Chain in Dialectic Discourse
– Georgette Wang
13. An Anatomy of Eurocentrism in Communication Scholarship:
The Role of Asiacentricity in De-Westernizing Theory and Research – Yoshitaka Miike
14. DevCom Los Baños Style – Nora C. Quebral