BINOD C. AGRAWAL: A Personal Tribute to a Teacher, Mentor and Friend
By Dr. Chandrabhanu Pattanayak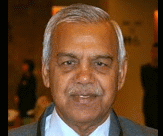 Dr. Binod Agrawal passed on 28th of March 2023, after suffering  a far-too-long decline in health.    
Dr. Agrawal for many decades taught  people to  communicate, research and teach for a living. No doubt this piece will be just one of a compilation of tributes from generations of communicators and researchers, teachers and students of Dr. Binod Agrawal.
Binod's death has me thinking about mentorship, how important it is and how wrong we get the concept. We write a ton about the importance of mentors. Yet, there's a commercial, artificial and transient nature to mentorship. We select a mentor based on an individual challenge or circumstance. What's more, we delude ourselves into thinking that we can "pick" a mentor, like a sweater or ripe mango. 
True mentorship, though, is deeper, and it's something that chooses you. It's a relationship, deep and lifelong — even generational.  I had never realized that until Binod died. 
My relationship with Binod C. Agrawal started as a colleague when he invited me to be the Dean and later the Pro-Vice Chancellor to his Vice Chancellor of the newly established Himgiri Nabh Vishwavidyalaya, back when people were shorter and lived closer to the sea. He was a giant of a man – not very tall in stature, but a giant nevertheless in the world of Anthropology and Communications. 
He spoke softly with a kind of accent that suggested a simple view of the world, though only fools would take that as a simplicity of intelligence. He knew his work. He shared his experience. When it came to sharing his knowledge, he was generous to a fault. Binod was quiet, steady and supportive of others always. In his quiet way he leaves a strong legacy. 
His legacy speaks to the values of kindness and acceptance and serves as a reminder of how to treat each other. We are so grateful for his life, his legacy and his loving presence in our lives. Our lives were touched by an angel. Binod, you have earned your wings.  This tribute is written on behalf of every person that knew and loved you. 
I spent six years working alongside him, building a new University, learning the skills needed to actually work. The philosophy, dare I say the nobility, of the craft of teaching and research was there, but, to Binod, none of that mattered if you weren't doing your job right. I finally, came out of that University being more prepared to face the world than I had ever been even though I had spent many years in North American Universities studying and learning the trades of teaching and Research.  But what I learnt from Dr. Agrawal in those six years and the years that followed were much more enriching and enlightening.  I also left the University with a friend. Since then Binod never left me. 
He lived in Ahmedabad at his home with his family but never forgot to call me at least once a week merely to enquire how I was doing and what new projects I was working on.  We would chat for a while and he would say goodbye never forgetting to ask after my father and the rest of the family. 
I  should have appreciated those calls more. It wasn't until much later that I realized that Binod probably was the only person alive who read every word I had ever put to page at least since I had known him.  He honoured my work with his thoughts and feedback. He continued to teach and mentor young students and scholars at various Universities and institutions, long after we had both left the University in Dehradun. We were an unlikely pairing. We disagreed on everything political.   
My association with Dr. Agrawal was from much before this.  As a young boy, I had seen him come to our house in Mysore and work with my father during the SITE programme, when he used to work as a young social scientist at ISRO and my father was the Director of the Central Institute of Indian Languages.  
He had great respect for my father as he for Binod.  In the 1980's the International Conference on Anthropological and Ethnological Sciences was held in India, in Delhi and Mysore, under the Chairmanship of my father where Binod acted as the Organizing Secretary.  Many years later we held the AMIC Annual Conference in Delhi where Binod was the Chairperson and I was the Organizing Secretary.  He never lost an opportunity to point this out. He was my greatest ally in person and in profession and I bow to him. 
I am sure that many would write about his herculean achievements as a student at University of Wisconsin at Madison and his massive volume of work after his return to India in various capacities, but my note here is a more personal one. 
I have travelled to many a conference and meeting with him and without him, I have published research papers following his footprints and sometimes walking away from them, but I always found him by my side.  Binod introduced me to the world of "Religion and Social Communications" by making me a part of the Asian Research Centre for Religion and Social Communication.  After I met him, he made me life member of AMIC and encouraged me to take more active part in its activities.  Since then I have been a constant in these groups as I have been in many others that Binod introduced me to.  
We not only disagreed on politics but often had grave disagreements about the future of Communication Research in India and Asia at large. I saw limitless possibilities in what new technology could provide, and how we needed to look into our own traditions if we had to create a national discourse.  His position was always one of inclusion of all theoretical frameworks.  I'm not sure I ever moved him, and I'm also not sure he was ever really wrong.  This was his style to never really dismiss anything at face value. 
Which brings us back to mentorship. Binod Agrawal was, at his heart, a caring man with a love for Communication, a tendency toward meandering storytelling, an insatiable desire to teach. Until now, I never realized that so many of those words could describe me. My eyes tear writing about it, just thinking of the honor and the unworthiness of it all. Binod was also a devoted friend and a loving father, two areas where I recognize I need a lifetime of improvement to earn that comparison. 
There is irony in my writing a piece about his death. In retrospect, legacy often is a discussion about the past, forgetting the impact on the present and, more importantly, what is to come. I am blessed at having the planet's finest mentor, and mentorship, no matter how we describe it, is at bottom a dedication to a lifetime of formation. It is a gift, and, like all presents, it is best shared than held close. To appreciate a mentor, one must commit to being one, happily bearing that responsibility. To honor Binod, I need to be as good of a mentor to others as I can, unhindered by my own imperfections and shortcomings. 
That means getting back to work. I hope I measure up to the job.