ASEAN ROADMAP 2025 to realize a common higher education space in Southeast Asia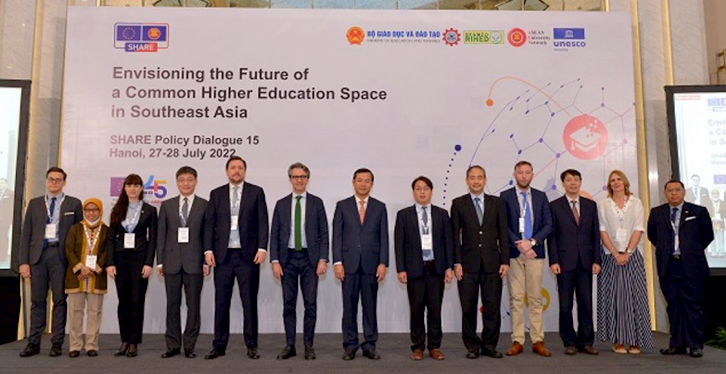 The ASEAN Secretariat, the EU Support to Higher Education in the ASEAN Region (SHARE) Programme, and the members of the ASEAN Working Group on Higher Education Mobility (AWGHEM) officially launched the 'Roadmap on the ASEAN Higher Education Space 2025 and its Implementation Plan,' on 27 July during 15th SHARE Policy Dialogue.
The launch was officiated by Dato' Lim Jock Hoi, Secretary-General of ASEAN; Dr Nguyen Van Phuc, Deputy Minister of Education and Training, Viet Nam; and Giorgio Aliberti, EU Ambassador to Viet Nam.
The Roadmap on the ASEAN Higher Education Space 2025 contributes to the ASEAN Community Vision 2025 and the strengthening of future resilience through enhanced people-to-people connectivity and improved access and recognition of higher education in the ASEAN region. It envisages a resilient and sustainable ASEAN Higher Education Space that enables greater harmonization and internationalization of the region's higher education systems.  It is reflective of the new reality for education worldwide, and proposes adaptive and sustainable approaches in responding to the changing context of higher education. This includes augmenting access and inclusion to internationalized higher education provision by students through digital transformation.
At the launch, Secretary-General Dato' Lim Jock Hoi, stated that, "the ASEAN Secretariat recognizes the crucial importance of synergy and working together to ensure efficient use of resources and maximize impact of our initiatives in the region. The Roadmap on the ASEAN Higher Education Space and its Implementation Plan is also our attempt to synergize our work, consolidate our efforts, and appreciate the valuable work that has been done by the ASEAN Member States and regional partners on implementing a common higher education [space] in Southeast Asia."
The SHARE Programme was launched in 2015. SHARE is the European Union's flagship higher education programme with ASEAN and has worked alongside the ASEAN Secretariat and regional partners to strengthen regional cooperation and enhance the quality, regional competitiveness and internationalization of ASEAN Higher Education institutions and students.
The 15th SHARE Policy Dialogue, entitled 'Envisioning the Future of a Higher Education Common Space in Southeast Asia,' is co-hosted by the Ministry of Education and Training of Viet Nam and is organized in partnership with the Education, Youth, and Sports Division of the ASEAN Secretariat, SEAMEO RIHED, the ASEAN University Network, and UNESCO Asia and Pacific Regional Bureau for Education.