AMIC Conference Sponsorship Now Open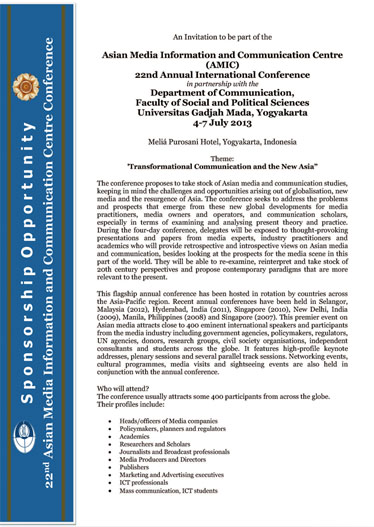 AMIC is offering universities, colleges, media and education enterprises, business houses, commercial firms, individuals and the publications industry outstanding sponsorship packages as part of this year's AMIC 22nd annual international conference to be held in Yogyakarta, Indonesia. (4-7 July)
With the potential for messages to reach thousands of managers, decision-makers, media personnel, academicians and students within the Asia-Pacific region and beyond, AMIC sponsorship packages include both on-line and in-conference opportunities.
AMIC supporters can choose from realistically-priced Gold, Silver or Bronze packages, while special Academic Partner and Media Partner sponsorships are also available. Naming rights for the highlight conference Gala Dinner will give sponsors added high-profile exposure, while advertisement space in the conference programme will be eagerly sought.
More details at conference website or download sponsorship opportunities in pdf.
Exciting New AMIC Titles go on Sale
Two new culturally-relevant Asian reference books, one on Korea and the other on India, will soon be available to purchase on-line through AMIC's web-site.
They are Evolving Asian Culture Gateways: The Korean Wave & Beyond and Bollywood and Globalization: The Global Power Of Popular Hindi Cinema. 
To be released in both hard copy and online versions, Evolving Asian Culture Gateways: The Korean Wave & Beyond, written by Su Jung Kim, Kalinga Seneviratne and Madanmohan Rao, is aimed at finding a way to represent Korea's pop-culture in the new framework of the Asian media eco-system. Although Asia's pop culture has been marginalized by mainstream Western pop-culture for generations, the new media environment can help Asia find a way to represent its many cultures and to ride on the "Rising Asia" bandwagon.
Not just a fad, the Korean Wave has been slowly gaining ground since the late 1990s. An increasing number of Korean television dramas, movies, pop songs and their associated celebrities have gained immense popularity in East and South-East Asian countries. News media and trade magazines have recognized the rise of Korean popular culture in Asia by dubbing it the "Korean wave" or Hallyu.  Yet about a decade ago, Korean popular culture did not have such export capacity, and was not even critically acclaimed by scholars (price: SG$30).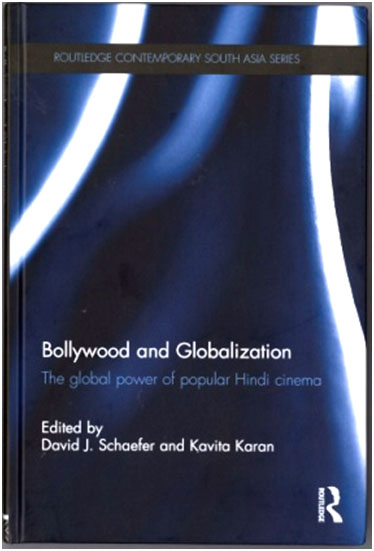 On the other hand, Bollywood and Globalization: The Global Power of Popular Hindi Cinema (2012), edited by David J. Schaefer and Kavita Karan, studies this South Asian phenomenon. Published jointly by AMIC and Taylor & Francis Publishing, Ltd., this book brings together qualitative and quantitative approaches to tackle empirical questions focusing on the relationship between soft power, hybridity, cinematic texts, and audiences. Adopting a critical-transcultural framework that examines the complex power relations that are manifested through globalized production and consumption practices, the book approaches the study of popular Hindi cinema from three broad perspectives: transcultural production contexts, content trends, and audiences. It firstly outlines the theoretical issues relevant to the spread of popular Indian cinema and emergence of India's growing soft power. The book goes on to report on a series of quantitative studies that examine the patterns of geographical, cultural, political, infrastructural, and artistic power dynamics at work within the highest-grossing popular Hindi films over a 61-year period since independence. Finally, an additional set of studies are presented that quantitatively examine Indian and North American audience consumption practices (price: US$145).
AMIC's 'call for papers' is in full swing. A team of reviewers is in place and papers are already being placed with them by the Conference Secretariat for evaluation. Don't miss out! Send your abstract to the conference team today. Closing date 15th April. At the same time, complete your conference registration form and also book your room at the conference venue hotel in Yogyakarta, Indonesia.
Full details on the conference website.
Last month's visit to AMIC in Singapore by students and staff of the Hasanuddin University in Makassar, Sulawesi, Indonesia (as reported in AMIC's February Newsletter) has hit the headlines in the Makassar newspapers.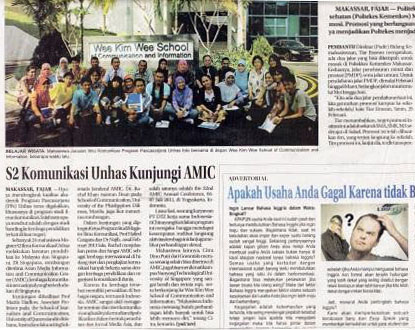 Led by Dr. Hafied Cangara, Director of the university's Institute for Research and Communication Services, the visitors enjoyed a tour of AMIC's facilities and a briefing on AMIC's work.
Global Broadcast Training 'First'
The regional Asia-Pacific Institute for Broadcasting Development (AIBD) and Malaysia's national media and information training body, the Institut Penyiaran Dan Penerangan Tun Abdul Razak (IPPTAR), have made a stand to improve the long-term quality of media training in the region.
Launching the first International Conference on Broadcast Training in Kuala Lumpur last month (25th-26th February), IPPTAR's Director, Dato' Adilah Shek Omar, called for "a paradigm shift in media education and development and to recognise the inter-relationships between culture, program production and broadcasting".
AIBD Director, Yang Binyuan, said the new media environment "challenges broadcasters to consider and adopt new perspectives and appropriate and effective ways in dealing with systems, technology and process involved in the digital world."
AMIC's Secretary-General, Martin Hadlow, spoke on a panel with the theme of Attracting and retaining talents. He questioned whether broadcasting organisations understood the significance a new generation of content-makers would bring to the type of programmes to be produced for radio and television in the future. "Are we recruiting the wrong people for the right reasons?" he asked. This was a reference to whether public service and Governmental broadcasting agencies continue to follow 'traditional' patterns of recruitment for current programme formats, while ignoring the reality of the styles more favoured by tomorrow's media consumers, namely the tech-savvy, social media literate and mobile 'screenagers' of today.
The conference attracted 60 delegates and speakers from over 20 countries.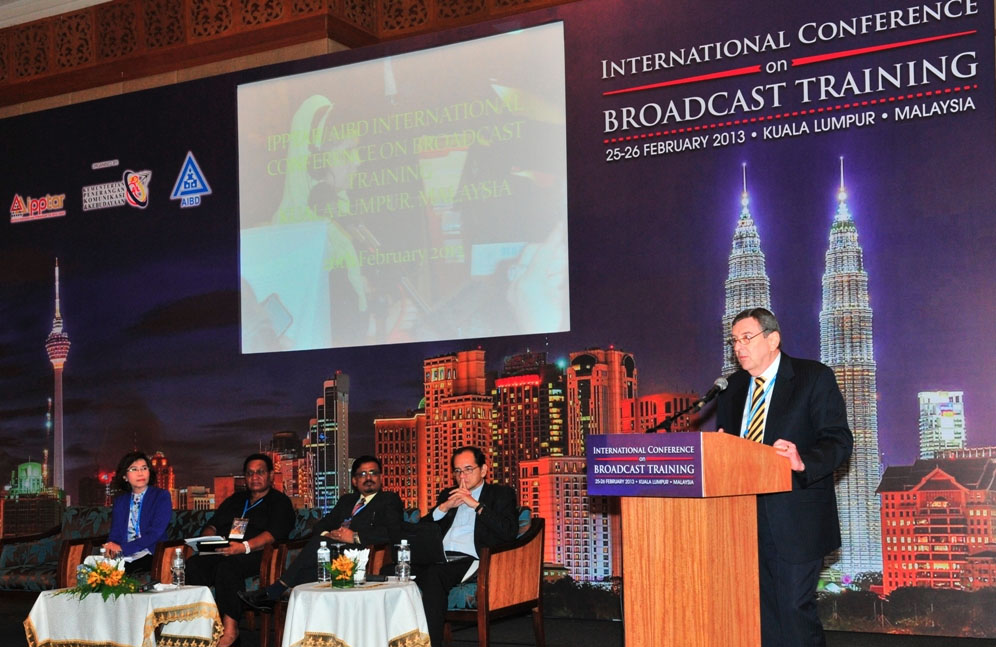 Led by Dr. Hafied Cangara, Director of the university's Institute for Research and Communication Services, the visitors enjoyed a tour of AMIC's facilities and a briefing on AMIC's work.