AMIC's 22nd international conference Transformational Communication and the New Asia (4th-7th July, 2013), hosted by Universitas Gadjah Mada (UGM), ended on a high-note in Yogyakarta, Indonesia.
After four days of intense and intellectually stimulating discourse on a diverse variety of communication subjects and issues in both plenary and parallel sessions, the conference concluded with a final plenary on New Media, Old Media Ethics, followed by a grand closing ceremony.
Dean of the Faculty of Social and Political Sciences at UGM, Dr. Erwan Agus Purwanto, represented the UGM Rector, Dr. Pratikno, at the concluding event and thanked all delegates for participating in the conference. Also present was Dr. Hermin Indah Wahyuni, UGM conference organizer, who led a team of more than 70 staff and students which provided support throughout the event.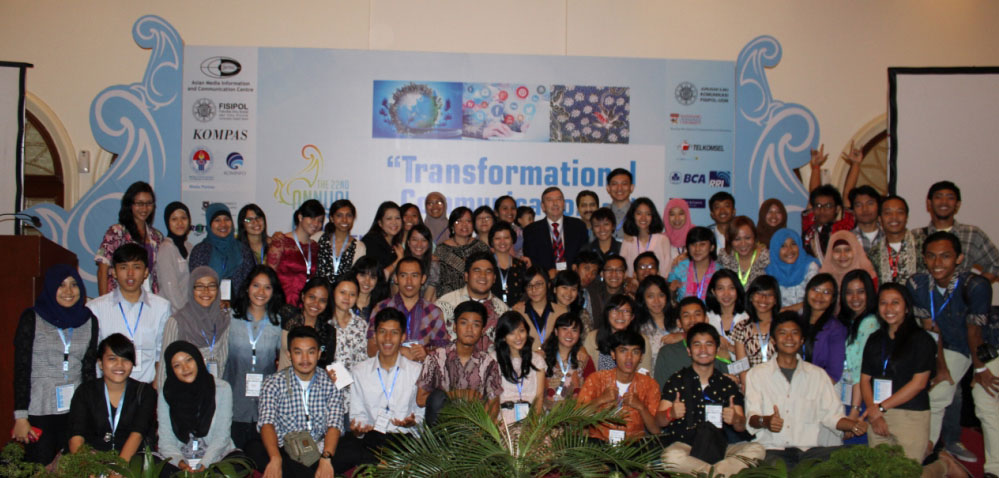 More than 350 local and international delegates registered for the conference. Parallel sessions, six running concurrently, were conducted for two full days, while several graduate students were first-time  international conference presenters. Highlight plenaries included the AMIC Distinguished Forum and the UNESCO Emeritus Dialogue.
 The AMIC Asia Communication Award was also presented during the conference. This year's awardees are both Indonesian- Professor Alwi Dahlan of the University of Indonesia and Mr. Jakob Oetama, CEO of the Kompas-Gramedia group. 
Feedback from conference delegates has been uniformly appreciative, with many congratulating UGM and AMIC on conference preparations and proceedings. UGM's generosity as hosts was noted as being exemplary, while the smooth-flow of the event said much for the intense planning which had been made by both AMIC and UGM.
Apart from principal partners UGM and the Nanyang Technological University, conference sponsors included KOMPAS, BCA, Telkomsel, Ministry of Communication and Information Technology Indonesia, Ministry of Youth and Sports Indonesia, Taylor & Francis, Ministry of Communications and Information Singapore, Universitas Pancasila Indonesia, UNESCO, The University of Queensland (Australia), ABU, AIBD and T+1 Media. 
At the closing ceremony, AMIC Chairman, Professor Ang Peng Hwa of Singapore, expressed AMIC's profuse thanks to the hosts and sponsors, and called on delegates to gather again next year for AMIC's 23rd international conference. The location and venue have yet to be named.
Yogyakarta conference activities are highlighted on the AMIC web-site at www.amic.org.sg
Full conference papers are also available at http://amic.org.sg/conference/AMIC2013/PROCEEDINGS.htm
Five new Directors were voted onto AMIC's Board at the organization's recent Annual General Meeting (AGM) held in Yogyakarta.
The changes were part of the standard election process under AMIC's Constitution.
Those stepping down included long-time Chairman, Professor Ang Peng Hwa of Nanyang Technological University in Singapore. In keeping with past AMIC practices, Professor Ang becomes AMIC Chairman d'Honneur.
Others to leave the Board were Deputy Chairman, Mrs. Maria (Chi-Chi) Mercedes F.  Robles from the Philippines, Professor Gerardo (Gerry) Ramirez Josue, also from the Philippines, Professor Robert Seward from Japan, and Dr. Mohammed Zin bin Nordin from Malaysia.
Professor Ang thanked the out-going Directors for their service and commitment to AMIC. In welcoming the incoming Board members, Professor Ang said he had no doubt that AMIC's intellectual capital is on an upward trajectory and that the Board would take it further.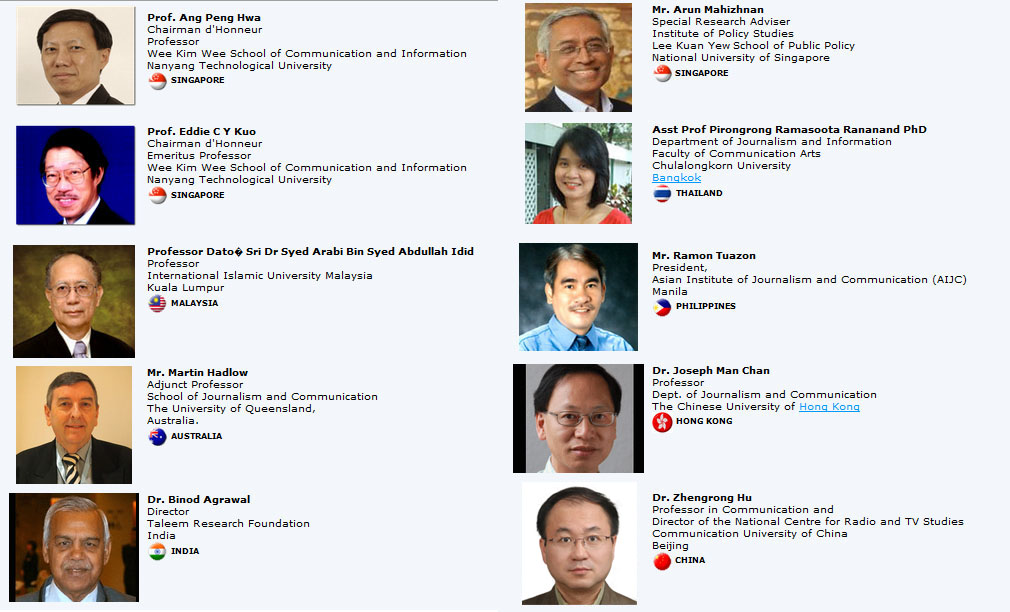 The newly elected Board members are Mr. Arun Mahizhnan from Singapore, Professor Zhengrong Hu from China, Asst Prof Pirongrong Ramasoota Rananand from Thailand, Mr. Ramon Tuazon from the Philippines, and Professor Dato' Sri Dr Syed Arabi Bin Syed Abdullah Ihid from Malaysia.
They join continuing AMIC Board members, Dr. Binod Agrawal from India, Dr. Joseph Man Chan from Hong Kong, and Assoc Prof Martin Hadlow from Australia.
The new Board is expected to elect a Chairman during a tele-conference to be held this month.
New Edition of Media Asia Spans the Region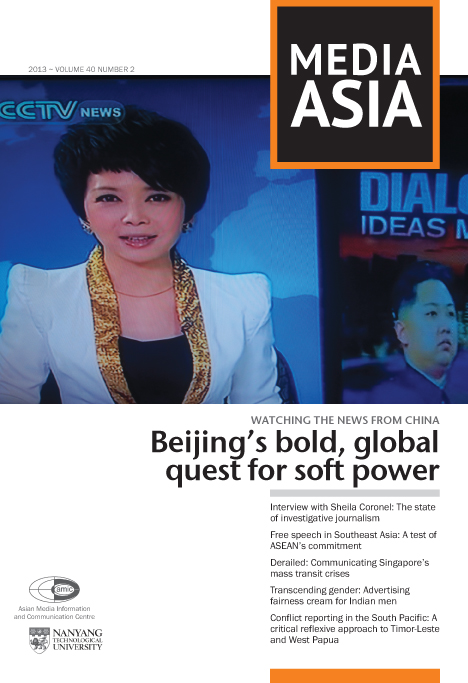 From research papers on conflict reporting in the South Pacific to the achievements of a village knowledge centre in Pondicherry, the latest edition of AMIC's Media Asia enjoys geographical reach across the Asia-Pacific region.
In his Pacific paper, award winning former investigative journalist, Professor David Robie from the Auckland University of Technology, examines 'peace journalism', the conflict-reporting framework in the region and articulates case studies in Timor-Leste and West Papua.
From India, PhD Research Scholar, Arpita Sharma, looks at a project in Pondicherry which aims to empower the poorest of rural villages by giving them access to knowledge via networked ICT. Can seemingly intractable problems of technological complexity, network connectivity and user illiteracy be overcome?
In a front-page story on "Beijing's bold, global quest for soft power", Media Asia Editorial Assistant, Suruchi Mazumdar, contends that China is catching up with the economic might of the USA, but that American soft power may be a harder act to follow.
 Media Asia Vol. 40, No. 2, also offers readers chapters on a range of other key communication and media issues under its reportage, interview, insights and
casefile sections. In a highlight interview with Media Asia Editor-in-Chief, Professor Cherian George, journalist and educator, Sheila Coronel, from the Graduate School of Journalism at Columbia University in New York explores the current state of investigative reporting in Asia. Professor Coronel, a Ramon Magsayay Awardee, co-founded the Philippine Center for Investigative Journalism.
Media Asia is AMIC's quality, quarterly journal and is available for purchase on-line at www.amic.org.sg
AMIC Conference Papers On-Line
Many of the full papers presented at AMIC's 2013 conference in Yogyakarta are now available on-line.
To access the papers, go to http://amic.org.sg/conference/AMIC2013/PROCEEDINGS.htm and click-on the relevant plenary session. The full range of papers available for reading then opens. Click on the title of the paper for access.
Some conference presenters have submitted their papers to journals elsewhere and have therefore requested that they not yet be made available on AMIC's web-site.
Health Under the Microscope
AMIC's flagship Asian Journal of Communication (AJC) has made a call for papers for an international special issue on Health Communication in the New Asia.
In the past five decades, many Asian countries have witnessed rapid urbanization and economic growth.  Challenges to public health have multiplied beyond developmental and rural contexts to suburban, urban and migratory landscapes.  The AJC is now seeking manuscripts which focus on how health communication has played, and can continue to play, a role in addressing the multiple health challenges facing Asia in the 21st century.
Guest editors for this special issue are Associate Professor May Lwin and Professor Charles T. Salmon, both of the Wee Kim Wee School of Communication and Information, Nanyang Technological University, Singapore.
Possible sub-themes for the special issue include health communication theory and practice for the promotion of health, health education and practice, enhancing patient communication, public and health crisis communication, children and adolescent health challenges and solutions, changing lifestyles and community health concerns, elderly populations, rural-urban migration and the mitigating role of heath communication, and cross-cultural health communication issues.
Abstracts should be forwarded to Assoc. Prof. May O. Lwin at tmaylwin@ntu.edu.sg