SUCCESSFUL AMIC SEMINAR IN INDIA
A member of India's Parliament has urged the country's politicians to be "techno savvy and to appreciate the potential of new media innovation".
Speaking at a seminar on Public Discourse and New Media in Bhopal, the Hon. Shri Anil Dave also emphasized the need for the use of social media for better governance. The two day event was jointly organized by the Makhanlal Chaturvedi National University of Journalism and Communication (MCU), Bhopal and AMIC in Singapore.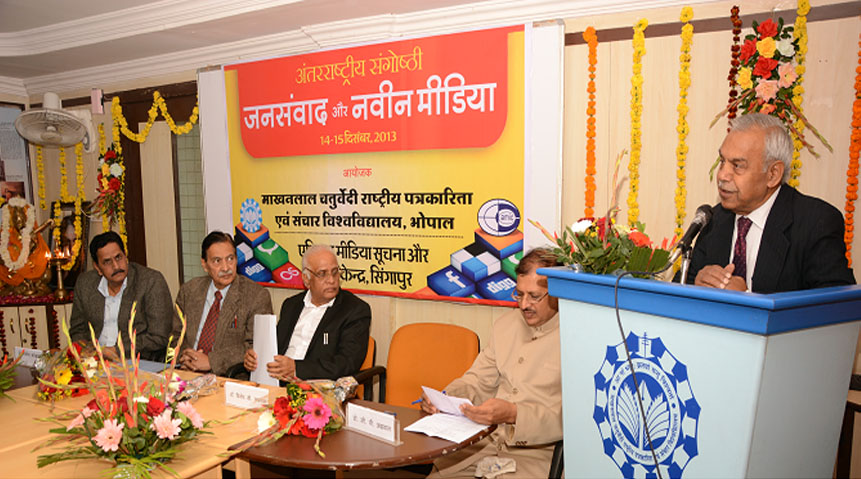 Dr. Binod C. Agrawal, AMIC Board Member
AMIC Board member, Dr. Binod C. Agrawal, introduced the conference theme and said the rapid proliferation of social media had "led to several significant outcomes" and that the political arena had turned from "a silent tight-lip India into a talking India". Dr. Agrawal said this had been achieved without much affecting the country's value system.
A keynote speaker, Mr. Vijay Saighal, former editor of the Dainik Tribune, Chandigarh, said that the subject is still "an enigmatic area for investigation", but that new media was "loaded with serious concerns and prone to misuse".
MCU Vice-Chancellor, Professor B.K. Kuthiala, noted that the objective of the seminar was to "view new media from a new perspective". The seminar was organised by the MCU. Altogether, 70 research abstracts were received for the seminar, but only 27 were selected for presentation. A full report of the seminar is available here: BriefReportNewMedia.pdf
AMIC CONFERENCE 'CALL FOR PAPERS' OPEN
Abstracts and panel proposals are now flowing into the AMIC Secretariat in Singapore ahead of the organisation's prestigious 23rd international conference.
The conference, to be hosted by Chulalongkorn University in Bangkok, Thailand from the 9th-12th July, 2014, has the theme Communicating in an e-Asia: values, technologies and challenges.
"We were delighted to see the first abstracts arriving early in January" said AMIC Secretary-General, Martin Hadlow. "Several panel ideas have also come to the Secretariat and these will help us greatly in working with Chulalongkorn University to plan a stimulating and scholarly event".
The conference theme relates to the exponential growth in the use of mobile technologies and the Internet in Asia .  ITU statistics reveal that mobile (cellular) phone subscriber users in the Asia-Pacific region now total some 3,547 million. The era of an e-Asia has dawned.
The benefits of instant communication have impacted upon almost every aspect of life, with mobile phones and the Internet providing new pathways for inter-personal communication, business and commercial enterprise, community development, educational opportunity, governance and democratic reform. However, in the Asia-Pacific region, where cultural traditions and family values are hugely respected and deeply ingrained, the influences of a new 'e-Asia literacy' are impacting on social conventions  and community structures.
The AMIC conference 'call for papers' is open until 4th April. However, presenters are urged to send their abstracts early. Further details here: www.amic.org.sg.
AMIC is seeking nominees for its prestigious AMIC Asia Communication Award 2014.
The Award honours outstanding achievement in one or several media and communication fields and categories. These include research, education, institution building, and excellence in journalism. From time to time, the AMIC Board may present the Award to a media practitioner for outstanding commitment and excellence in their field of endeavour.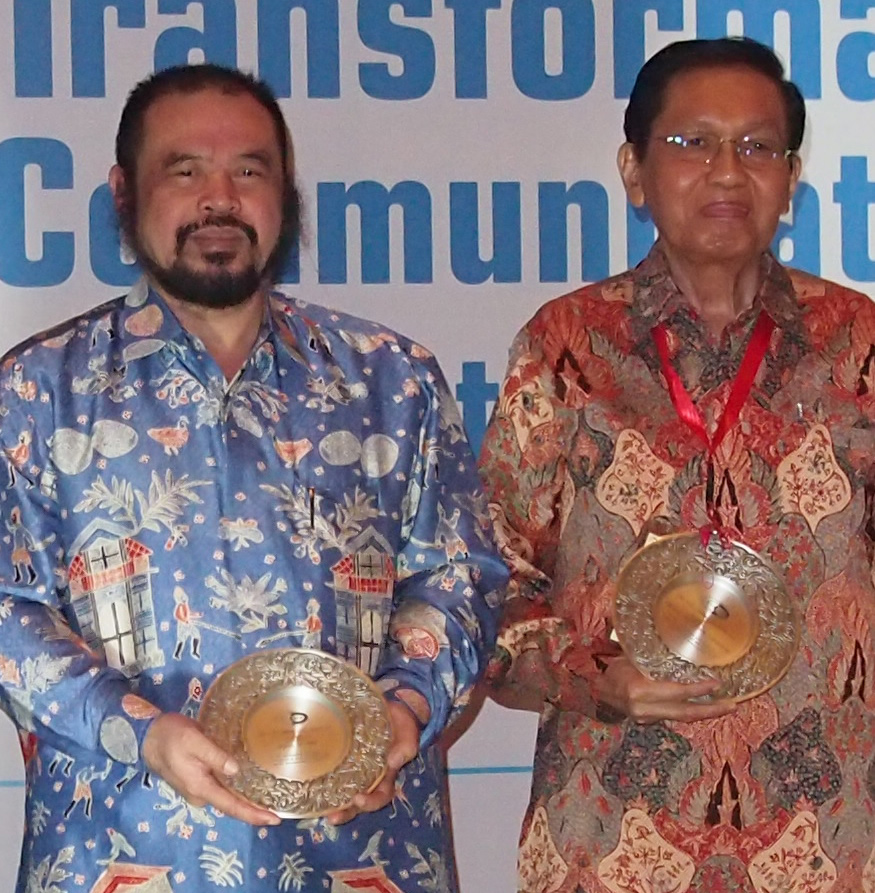 AMIC Asia Communication Awardees 2013
Mr Jakob Oetama's representative, Mr. Ninok Leksono(L), and Dr.Alwi Dahlan(R)
A person will be honoured based on the impact that his or her work has had on Asian media and communication. The contribution can be focused on a single country within Asia, on a region within Asia, or on the whole of Asia. While the Awardee need not be from Asia, preference is accorded to regional actors.
Individuals of all nationalities are eligible for the Award, which is given at the discretion of the AMIC Board of Directors. The Award will be presented at the 23rd AMIC international conference in Bangkok, Thailand (9th-12th July, 2014).
Previous Awardees have been Dr. John Lent, 2006, Prof. Eddie C. Y. Kuo, 2007, Dr. Nora Quebral and Dr. Florangel Braid, 2008, Dr. Binod Agrawal and Dr. K. E. Eapen, 2009, Dr. Hidetoshi Kato, 2010, Dr. Georgette Wang and Dr. Crispin Maslog, 2011, Tan Sri Dato' L. Krishnan, 2012 and Dr. Alwi Dahlan and Mr. Jakob Oetama, 2013.
Nominations close on the 31st May, 2014. Full details of the Award are available on the AMIC web-site at www.amic.org.sg.
TUNING IN TO WORLD RADIO DAY
Gender and media is the key theme for this year's United Nations World Radio Day celebrations.
The day, which is organized by UNESCO, is celebrated worldwide on the 13th February and marks the date on which UN Radio first began broadcasting in 1946. The objectives of WRD are to raise greater awareness among the public and the media of the importance of radio and to encourage decision makers to establish and provide access to information through radio. The day also intends to enhance networking and international cooperation among broadcasters.
AMIC is a partner with UNESCO in World Radio Day and has contributed an article on radio and gender equality to this year's global WRD web-site:  http://www.unesco.org/new/en/world-radio-day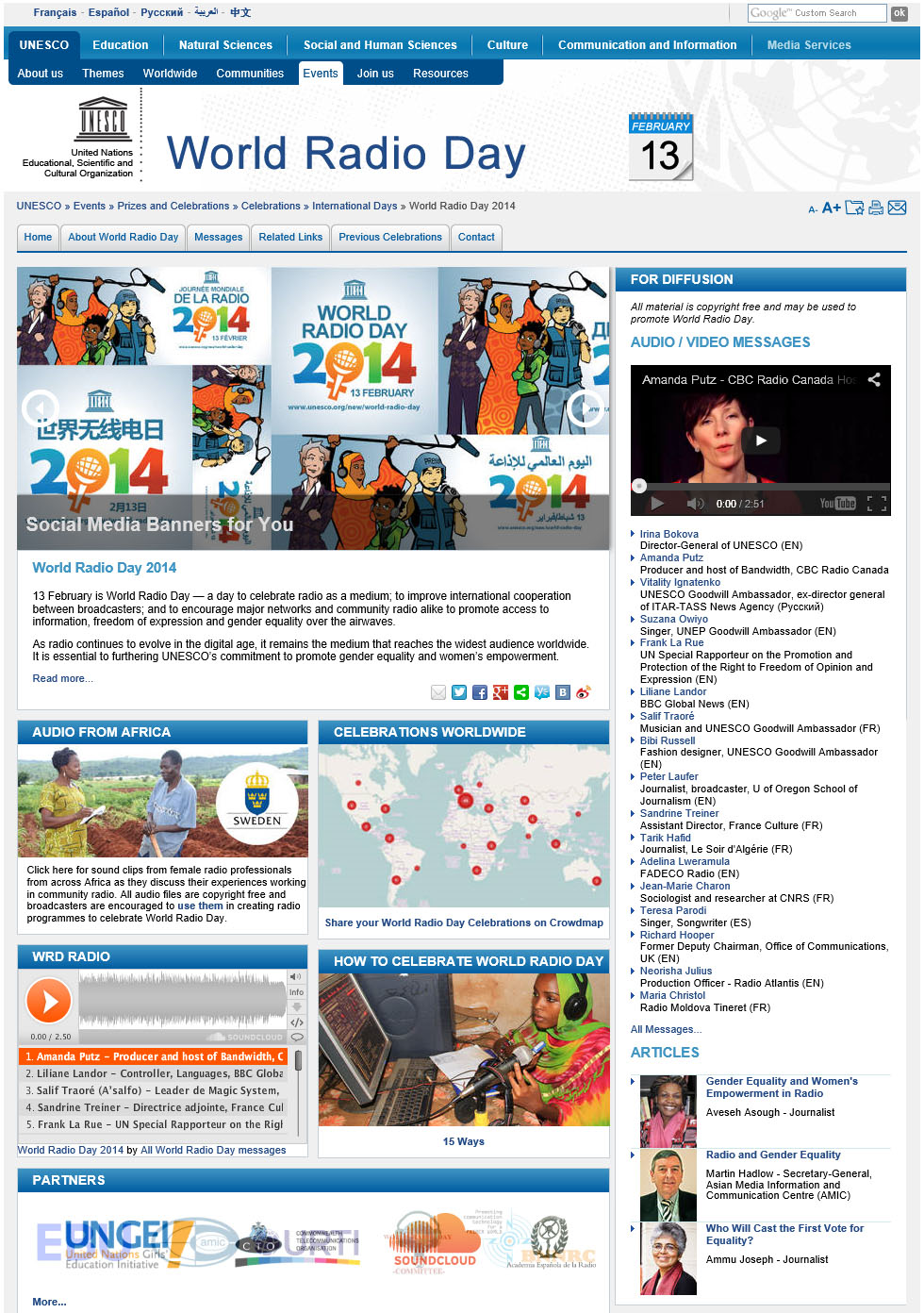 PACE ANTICIPATES THE ASEAN FUTURE

With the economic integration of its Member States beginning to take shape next year, the Association of Southeast Asian Nations (ASEAN) is embarking on a strategic journey, the goal being an ASEAN Economic Community (AEC) by 2020. Human resources development, capacity building and recognition of professional qualifications are just some of the areas of co-operation and integration envisaged within the new framework.
In anticipation of the major changes to take place, the Philippine Association of Communication Educators (PACE) is taking the initiative in putting teaching and learning squarely on the table at its 2014 National Conference under the topic Communication and Media Education and Practice: Issues and Challenges on ASEAN Integration and K-12.
The conference, to be held at Benguet State University, La Trinidad, Benguet, Philippines (3rd-5th April, 2014) will deal with issues and challenges of the K-12 and ASEAN integration with the goal of cultivating new insights and perspectives into the future media landscape. It will also invite thoughtful reflections and re-examine values as communication specialists and practitioners collaborate in the collective pursuit of solutions to solving academic and practical problems of internationalization and ASEAN integration.
Scholars, students and practitioners are invited to submit Abstracts and panel proposals to PACE by the 27th February. Full details at: http://www1.pace.org.ph/2013/10/28/pace-national-conference-2014-april-3-5/.
HAVE YOU RENEWED YOUR AMIC MEMBERSHIP?
In the rush and bustle of the holiday season, it may have slipped your mind. Now, with a New Year upon us, it's time for renewal. Your AMIC membership renewal, that is.
Individual AMIC membership is only SGD50 for a full calendar year (starting 1st January). It entitles you to a range of benefits, including on-line access to AMIC's quality quarterly Media Asia. A discount also applies for registration fees for AMIC's annual conference.
Or join us as an AMIC Life member and you'll not have to worry again about renewals. Institutional memberships are available too. More details at: http://amic.org.sg/?link=20.
CALLING ALL ASIA MEDIA HISTORIANS

Media and Empire in Asia is one of the key topics in the 'call for papers' for historians at this year's global conference of the International Association for Media and Communication Research (IAMCR).
The main theme of the conference, to be held in Hyderabad, India is Region as Frame: Politics, Presence, Practice and, while papers are welcome in all sessions, the IAMCR History Division is particularly seeking input from interested Asian media and communication academics for its panels and plenaries.
While the media and Empire session would centre on considerations of the development and relationship of media and forms of imperial control in South Asia and elsewhere in historical perspective, a range of other academic areas of interest are open for Asian historians. These include cross-border communication and among regions during the 'Cold War', changing perceptions of privacy in the media, journalists as chroniclers of their times, and the historical development of forms of public communication other than the news media and journalism (such as crisis communication, advertising, public relations, film, libraries etc.).
IAMCR is a close partner of AMIC and, this year, both organizations have arranged their annual conference dates to enable delegates to attend both. AMIC's conference is in Bangkok, Thailand (9th-12th July), with IAMCR holding their global event in Hyderabad, India the following week (15th-19th July). The IAMCR History Division 'call for papers' web-page is:
http://www.iamcr.org/s-wg/section/his/1130-cfp-his-2014