AMIC Conference Registration now open
AMIC is now inviting delegates to register for its 22nd Annual conference to be held in the Hotel Melia Purosani, Yogyakarta, Indonesia (4th-7th July, 2013).
The conference is being conducted in partnership with the Department of Communication, Faculty of Social and Political Sciences, Universitas Gadjah Mada, and has the theme Transformational Communication and the New Asia. A number of conference streams have been proposed and a 'call for papers' is currently underway.
Already, the AMIC Secretariat is receiving suggestions from delegates for panels, plenaries and workshop sessions. Both the 'call for papers' and registration documentation are available on AMIC's web-site at www.amic.org.sg 
While the conference is open to AMIC members and non-members alike, a preferential conference rate is available for AMIC members. Non-members can enjoy an 'early bird' discount if they sign-up before 10th June. Student rates also apply.
Passing of Jim Richstad, Phd
Former NTU and NUS visiting Professor and journalism scholar, Dr. Jim A. Richstad, has passed away at his home in the USA at the age of 80 years.
Dr. Richstad, who also contributed papers, articles and chapters published by AMIC, was well-known in the Asia-Pacific region as a journalist, researcher and author. Apart from his years in Singapore, he was also based in Honolulu, where he worked at both the University of Hawaii and the East-West Centre.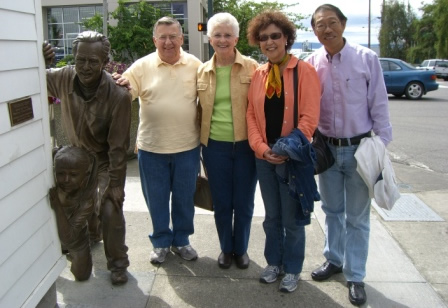 Dr. and Mrs. Richstad with Professor and Mrs. Eddie Kuo
"He was an old friend and an excellent teacher" recalled NTU Emeritus Professor Eddie C.Y. Kuo, former Chairman of AMIC, on learning of his passing.
"In the 1990s, he was a visiting Professor twice to both NUS and NTU during the years when we started the new School at Nanyang" said Professor Kuo. "He was instrumental as a senior faculty when we just started our journalism programme and many of our old NTU/SCI alumni still remember him as an excellent teacher".
Jim Richstad began his career as a journalist with newspapers in Seattle and gained a BA degree at the University of Washington. He later continued his studies with a postgraduate degree, also at UW, and undertook PhD studies at the University of Minnesota. Apart from his work in Singapore, Dr. Richstad was also one of the pioneers in conducting practical training courses for journalists in the small island nations of the South Pacific.
Professor Kuo, who was foundation Dean of NTU's Wee Kim Wee School of Communication and Information, reconnected with Dr. Richstad in the mid-2000s when his daughter and her family moved to Seattle and when Dr. Kuo and his wife made a summer visit there.
"I remember visiting Jim and Marlene at their charming home at Everett, and having a reunion gathering with Jim and Dorothy Ho (NTU pioneer class of 1997) at a restaurant at Queen Anne Hill (across from downtown Seattle) where Jim grew up."
"He will be missed" said Professor Kuo.
The challenge of new technologies and social media to the output of 'traditional' media, such as radio, television and print, was one of the themes aired by AMIC at a recent major media conference in the Philippines.
Speaking on The Changing Landscape in Asian Media at the Pinoy Media Congress in Quezon City, AMIC Secretary-General, Martin Hadlow, reminded conference delegates that media consumers are being increasingly brought into the news and information production and dissemination process.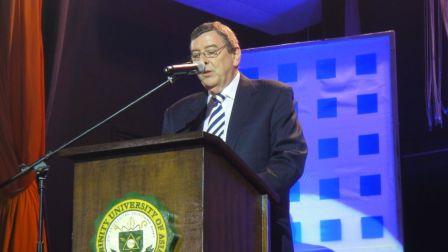 AMIC Secretary-General, Martin Hadlow
"The often heard comment that 'everyone is a content maker' certainly rings true in a world of mobile phones and similar interactive communication devices" he said. "In Asia, citizens are increasingly becoming an extra pair of eyes and ears for professional journalists and media organizations, supplying photographs, news tips and other material. Of course, they also have their own blogs and other 'citizen journalism' outlets where they can communicate directly with a global public, without an intermediary or moderator".
In a follow-up question and answer session with students, Mr. Hadlow shared his views on a range of topics relating to development communication and the future of journalism education. He also reinforced the role of a free press as the cornerstone of democracy and recognized and honoured the many Philippines media professionals who had been killed or injured going about their important duties.
The Pinoy Media Congress is an annual event organized by the Philippines Association of Communication Educators (PACE) and is sponsored by a major commercial TV channel, ABS-CBN. This year's overall conference theme was Media: Beyond Information and Education. It bought together students, lecturers and teachers from across the country and was held at the Trinity University of Asia. The university celebrates its golden anniversary in 2013.
During his stay, the AMIC Secretary-General also met with the President of PACE, Dr. Gwenetha Pusta, and Ramon R. Osorio, Vice-President of Corporate Communications with ABS-CBN. While in the Metro-Manila area he also visited the Presidents of Miriam College and the University of Asia and the Pacific. Before leaving the country, he also met with previous AMIC Secretaries-General, Maria (Chi-Chi) Robles and Jose Carlos.
Broadcasting executives, programme producers, journalists and media scholars from around the world will be congregating in Vietnam's capital in July for this year's RadioAsia.
Renowned as Asia's key annual radio broadcasting conference, RadioAsia2013 is to be hosted by the Voice of Vietnam and will be held in Hanoi from 29-31 July. RadioAsia is jointly organised by AMIC and ABU, the Asia-Pacific Broadcasting Union.
Social media and the way in which it interacts with radio will be the focus of this year's conference. "The rise of the Internet has brought huge new challenges to all forms of electronic and print media" commented AMIC Secretary-General, Martin Hadlow. "The interactive nature of social media and the immediacy it brings to communications within nations and across the globe have revolutionised the way in which we consume radio."
Amongst other topics, RadioAsia2013 will look at such issues as the way in which social media, through Facebook, Twitter and other tools, is impacting on radio audiences. It will also discuss the interaction of citizens with their local radio stations and how radio broadcasters are harnessing the power of social media to gather breaking news stories and to encourage listener feedback.
Last year's RadioAsia conference, which had the theme Connect me to the World was held in Jakarta, Indonesia.
Indonesians visit AMIC in January
Two groups of Indonesian media and communication schools recently visited the AMIC office as part of their study tour program.
Professor Andi Faisal Bakti, Dean of the Faculty of Communication of the Universitas Pancasila in Jakarta, Indonesia, led a group of faculty and students in a courtesy call to AMIC's new Secretary-General Martin Hadlow last January 17. Renewing their institutional membership to AMIC, Dean Bakti noted that AMIC has provided leadership in research and publication the field of mass communication in the region. For his part, the AMIC Secretary-General said he was happy with the renewed ties even as this year's conference is to be held in Yogyakarta, Indonesia.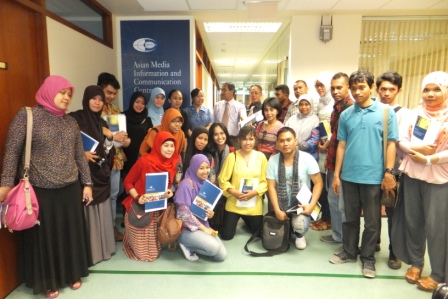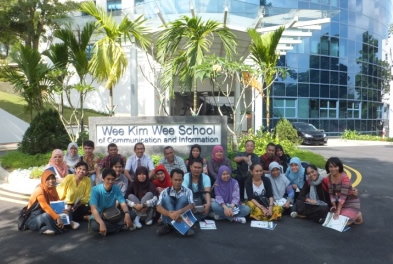 On January 31, AMIC also entertained a group of faculty and students led by Dr. Hafied Cangara, Director of the Institute for Research and Communication Services of the Hasanuddin University in Makassar, Sulawesi, Indonesia. The group also showed interest in AMIC publications. They were especially interested in the upcoming new Media Asia.
Dr. Cangara presented AMIC with a crystal memento of their university and a copy of his book, Komunikasi Politik. This was received by AMIC Publications head Rachel Khan, who represented Dr. Hadlow in the meeting. (Dr. Hadlow was in Manila for a keynote address at the time.)
Both Dr. Bakti and Dr. Cangara were pleased to be informed about the Call for Papers for the upcoming international conference even as they assured AMIC of the participation of their faculties there.