RadioAsia2013 Great Success
The Prime Minister of Vietnam has called on radio broadcasters to be more dynamic, creative and co-operative to meet the increasing demands of society.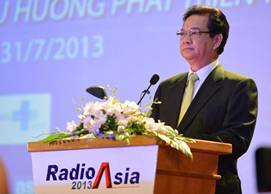 Mr. Nguyen Tan Dung was speaking at the opening ceremony of the RadioAsia2013 conference held in Ha Noi, Vietnam (4th-7th July). The conference is an annual event jointly organised by AMIC and the ABU (Asia-Pacific Broadcasting Union). This year's host and in-country organiser was Radio the Voice of Vietnam (VOV) and the conference theme was Radio and Social Media: Where to Next?
"Digital technology and the booming social media have given the public greater access to diverse sources of information" the Prime Minister said. He noted that this is "gradually changing the media context in each nation and the world over".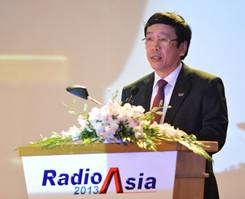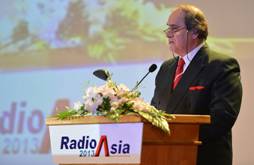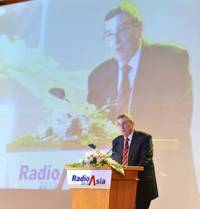 In his opening address, the President of Radio the Voice of Vietnam (VOV), Mr. Nguyen Dang Tien, said that VOV "has adopted the current trend and made good use of opportunities offered by social networks to diversify its programming". He reminded delegates that VOV is the only national media organization in Vietnam with four media platforms- radio, television, print and on-line.
Also speaking at the opening ceremony, AMIC's Secretary-General, Assoc. Prof. Martin Hadlow, said that radio still had a vital role in society. "The messages it carries are understood by all, even those who cannot read or write" he said, "and radio brings life-long educational opportunities, life-saving information, culture and entertainment to individuals no matter where they are, or what they are doing".
The Secretary-General of the Asia-Pacific Broadcasting Union (ABU), Dr. Javad Mottaghi, told delegates that radio in a digital age "is going through a watershed change, with digital radio providing many possibilities for new content applications, data based services, graphics and still pictures".
Digital technologies and the impact of social media on radio broadcasting were key issues discussed at RadioAsia, the region's premier conference dedicated to the medium. The three day event brought together several hundred delegates and speakers. Conference papers and presentations are available for access at www.radioasia.org
Next year's RadioAsia conference will be held in Colombo, Sri Lanka.
AMIC Welcomes New Chairman
The AMIC Board of Directors, several of whom were newly elected at the organization's Annual General Meeting (AGM) in Yogyakarta, Indonesia during the 22nd AMIC international conference in July, has voted in its next Chairman.

He is Mr. Arun Mahizhnan from Singapore.
Mr. Mahizhnan, who has previously served in a number of capacities with AMIC, is currently Special Research Adviser with the Institute of Policy Studies at the Lee Kuan Yew School of Public Policy at the National University of Singapore. He is also an Adjunct Professor at the Wee Kim Wee School of Communication and Information in Singapore.
In thanking Board members for their confidence in his appointment, Mr. Mahizhnan said that these are uncertain times, but that much was being done to keep AMIC in a healthy position.

The out-going AMIC Chairman, Professor Ang Peng Hwa, congratulated the new Chairman and Board members. He said that he had no doubt that AMIC's intellectual capital is on the upward trajectory and that the new Board would take it further.
In accordance with previous practice, Professor Ang retains his links with AMIC as its Chairman d'Honneur.
AMIC To Make Book Donations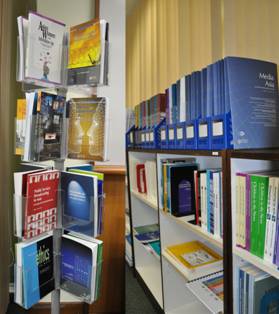 During its 43 year history, the Asian Media Information and Communication Centre (AMIC) has published hundreds of titles in fields such as development communication, media and social change, communication research and theory, community radio, public service broadcasting, culture and media, ethics and media law, to name a few. Many of these books have won industry and academic awards, while AMIC's journals are universally recognised for their excellence.
In an effort to further strengthen the libraries of schools of journalism, communication and media studies in the Asia-Pacific region, AMIC is now making available many back-titles of its books and journals free-of-charge.
AMIC will select the books to be donated and will package them ready for transport by post or air/sea freight. The recipient organization will simply be requested to pay for transport costs from Singapore to the desired destination.
University and communication school/college libraries seeking a donation of AMIC books and journals should contact AMIC's Publications Executive, Ms Angie Chew, at publications@amic.org.sg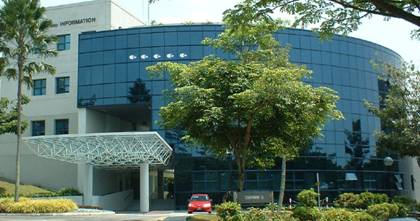 After many years located in spacious offices on the 4th floor of the Wee Kim Wee School of Communication and Information (WKWSCI) at Nanyang Technological University in Singapore, AMIC has relocated to new accommodation on the School's 3rd floor.
The move comes as AMIC redefines its role with the WKWSCI and moves to a new relationship with its long-time host.
"The University has been a generous benefactor and key AMIC funding partner for many years", said AMIC Secretary-General, Assoc. Prof. Martin Hadlow. "We have hugely valued that support and look forward to developing a strategic plan which ensures an on-going role for AMIC within the new hosting framework proposed by the NTU."
AMIC's telephone numbers and postal and e-mail addresses remain as before. A new web-site is expected to go on-line by the end of September.