Yogyakarta Team On-Track!
A grand welcome to Yogyakarta is guaranteed for delegates to AMIC's 2013 conference in July.
The Universitas Gadjah Mada (UGM) organising team preparing for the conference has arrangements well in hand and is looking forward to being of service to AMIC members and delegates. Hotel accommodation has been secured and meeting room facilities put in place. The conference venue, Hotel Melia Purosani, is offering special guest room rates for delegates. Conference meeting spaces are of the highest quality and are fully-equipped with modern technologies. The break-out session rooms are closely grouped together on one of the hotel floors, thus enabling delegates to quickly move from one venue to the next.
Under the overall authority of the UGM Rector, Dr. Pratikno, and the Dean of the Faculty of Social and Political Sciences, Dr. Erwan Agus Purwanto, the organising committee, led by Dr. Hermin Indah Wahyuni, is working hard to ensure that AMIC conference delegates enjoy both a fruitful academic time and a rewarding social experience when they visit Yogyakarta, one of Indonesia's most renowned cultural cities.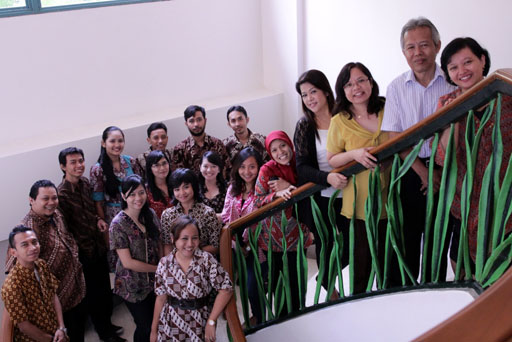 Dr. Hermin Wahyuni (r) and the UGM planning team greets AMIC Country Representative,
Dr. Zulkarimein Nasution, and AMIC Secretariat staffers, Rachel and Ivy
Travelling to Yogyakarta recently, AMIC Secretariat members, Associate Professor Rachel Khan and Ms Ivy Alcantara, said they were impressed with the arrangements now in hand. "AMIC members are assured of a tremendous time during the 22nd AMIC conference" they said. "Traditional Indonesian hospitality will enhance the conference proceedings and ensure that international visitors take away rich and happy memories."
On-line conference registration is now available. Delegates should also book their hotel rooms. All details are available on the AMIC web-site at www.amic.org.sg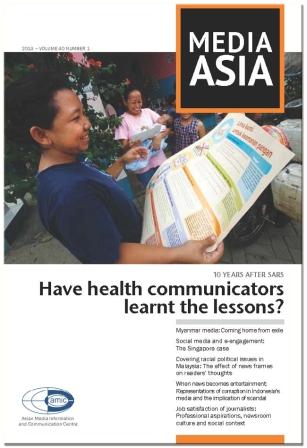 AMIC's popular Asian communication quarterly, Media Asia, is re-launching for 2013 in a new format.
Rather than the previous A-4 sized magazine, the new Media Asia will be more compact in size and shape. Under its new Editor, Associate Professor Cherian George, Media Asia content is also undergoing a revamp, with Volume 40, Number 1 including a range of new features and commentaries.
Heading the new edition of the quarterly is an in-depth retrospective on health communication in Asia, recalling that the last major SARS outbreak occurred a decade ago. Media Asia also includes articles on social media and e-engagement in Singapore, 'news as entertainment' in Indonesia, and the coverage of racial political issues in Malaysia. The journalism profession is investigated in an article on job satisfaction and aspirations.
AMIC members can access Media Asia on-line as part of their membership subscription and they also have reduced rates for the hard-copy version. Non-AMIC members can subscribe to Media Asia, in print or e-version.
www.amic.org.sg
AMIC Membership Renewals Now Being Accepted
Institutional and individual membership renewals are beginning to flow into the AMIC Secretariat at an increasing rate as members look forward to participating in the 22nd annual AMIC conference to be held in Yogyakarta (4th-7th July, 2013).
AMIC membership brings an attractive discounted conference registration rate, as well as ensuring access to the AMIC Annual General Meeting (AGM), the organisation's overall decision-making mechanism. The AMIC AGM will be held at the conference venue in Yogyakarta on the evening of 5th July.
Apart from reduced registration fees, AMIC membership also entitles members to a free on-line subscription to the AMIC quarterly, Media Asia, and a discounted fee for the prestigious Asian Journal of Communication. Access to AMIC Resource Centres is another benefit, while many other important services and discounts also apply.
Membership renewal is now available, for details please visit our website.
Publishing Opportunity for AMIC Members
In the wake of its successful CeDEM-Asia-2012 conference, held in collaboration with AMIC, the eJournal of eDemocracy and Open Government (JeDEM) is calling for papers for a special edition.
The theme is Transformation of Citizenship and Governance in Asia: The Challenges of Social and Mobile Media and the extended deadline for papers is now 10th May, 2013.
The proliferation of social media and mobile phones over the last decade has spurred significant interest in their civic and political implications. While the role of new media platforms in facilitating macro-level political changes has generally attracted most attention, these new communication tools are also actively utilized in more traditional civic and political processes. In addition, social and mobile media platforms have created new channels and means for citizens to interact with governments and other political institutions, monitor their functioning, and more actively participate in policy-making processes. There is little doubt that the emerging social and mobile media practices are changing our understanding of governance and politics.
While the above changes are already widely debated in mature, developed Western democracies, there is an even greater need to address them in the context of rapidly developing Asian societies. This special issue is aimed at showcasing innovative scholarly works examining various subjects concerning the role of social media, mobile phones, and other new technologies in the formation of democratic citizenship and good governance in Asia. Scholarly works that address relevant topics in a particular Asian country, and comparative research on Asian countries or Asian and non-Asian countries are welcome.
Template and relevant guidelines at http://www.jedem.org/about/submissions#authorGuidelines