AMIC Explores Africa in 29th Annual Conference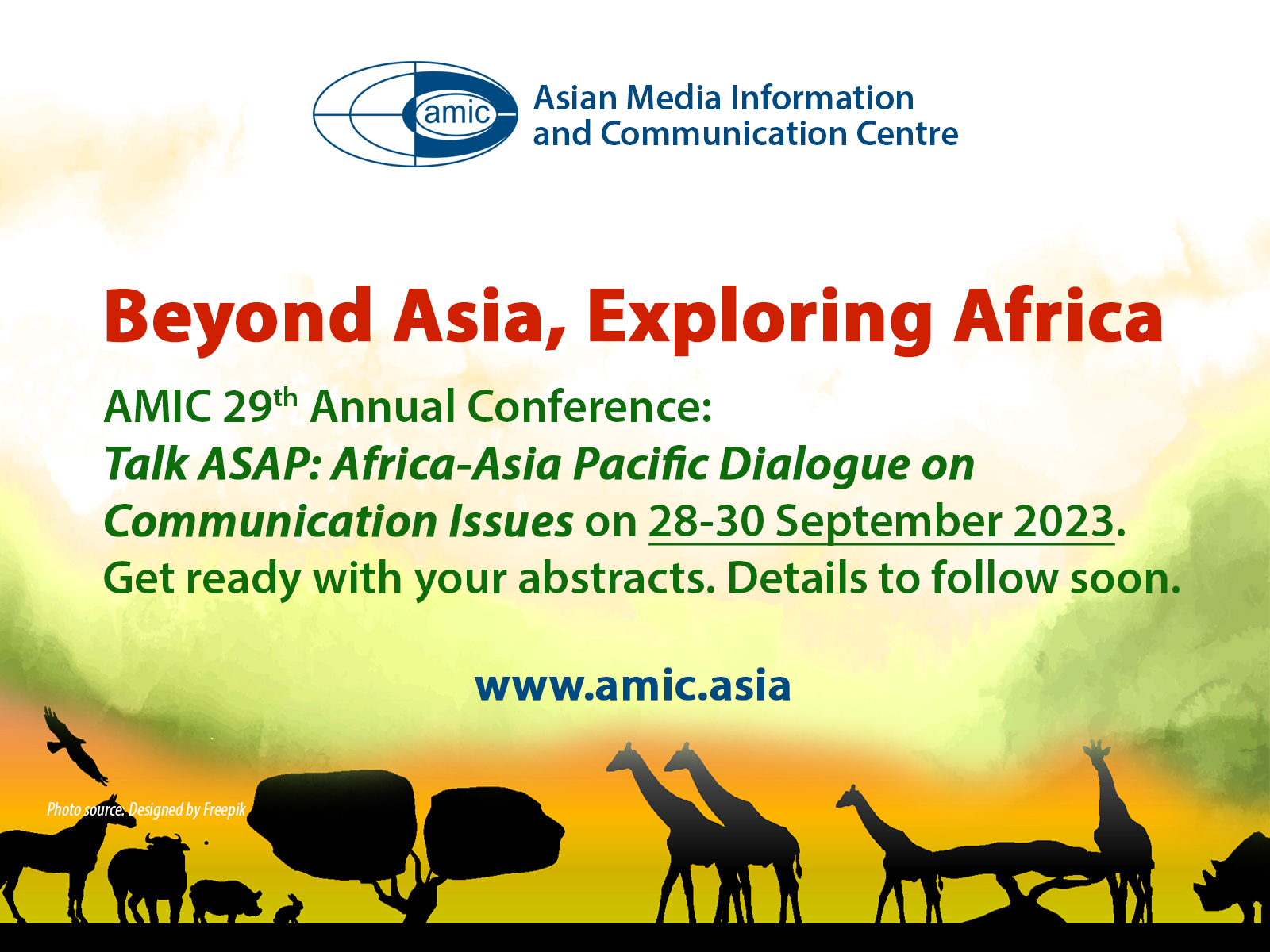 THE Asian Media Information and Communication Centre (AMIC) will be engaged in another pioneering event with the upcoming 29th AMIC Annual Conference scheduled on September 28-30, 2023.
The annual event's theme is Talk ASAP: Africa-Asia Pacific Dialogue on Communication Issues.
The pioneering initiative for dialogue between the two continents is the 1955 Asian-African Conference popularly known as the Bandung Conference which was described as "the first significant gathering of independent and soon-to-be independent nations in Asia and Africa."
Currently, there is no exclusive venue for dialogue and exchange of lessons and experiences between Asia and Africa, particularly in the communication and media sectors.
According to AMIC Secretary-General Ramon R. Tuazon, the conference will serve as a platform for renewed South-South knowledge-sharing and peer-learning mechanism, i.e., to share experiences, perspectives, lessons, and technologies and to provide opportunities for interregional, and intercontinental cooperation.
The Conference is envisioned to be a venue for communication and media scholars  to share and exchange lessons and experiences, especially best practices, in addressing common communication media issues and concerns. It also aims to promote Afro-Asian communication scholarship through collaborative academic initiatives, provide a venue for networking among Asian and African communication professionals and institutions for collaborative programs/projects in research, publications, forums, and faculty/student exchanges, and explore the feasibility of adopting a mechanism for inter-continental consultation toward consensus-building for current and emerging  global communication issues.
The 29th annual conference will be co-hosted by Universitas Padjadjaran (UNPAD) in Bandung, Indonesia, and Far Eastern University (FEU) in Manila.
UNPAD is part of AMIC history. AMIC emerged from a 1971 travelling seminar that brought 13 Asian communication and journalism educators to 13 cities in Asia in 25 days. The third stop in the 25-day tour was the Facultas Publizistik of Padjajaran University. The study programs of UNPAD's Faculty of Communication Sciences has been accredited 'A', and in 2013-2014, its Master of Communication Science program became the only one with 'A' accreditation in Indonesia.
FEU is a private, non-sectarian university founded in 1928. It has seven institutes that offer 24 undergraduate programs, 17 graduate programs, and a law school in three campuses. The Philippine Commission on Higher Education (CHED) classifies FEU as autonomous, the highest classification for a university. 
University of Pretoria in South Africa is the lead partner for Africa. The University recently launched its Center for Asian Studies in Africa (CASA). The Center will be introduced to AMIC participants during the Conference. (END)