AMIC Board Chair gets Alumni Award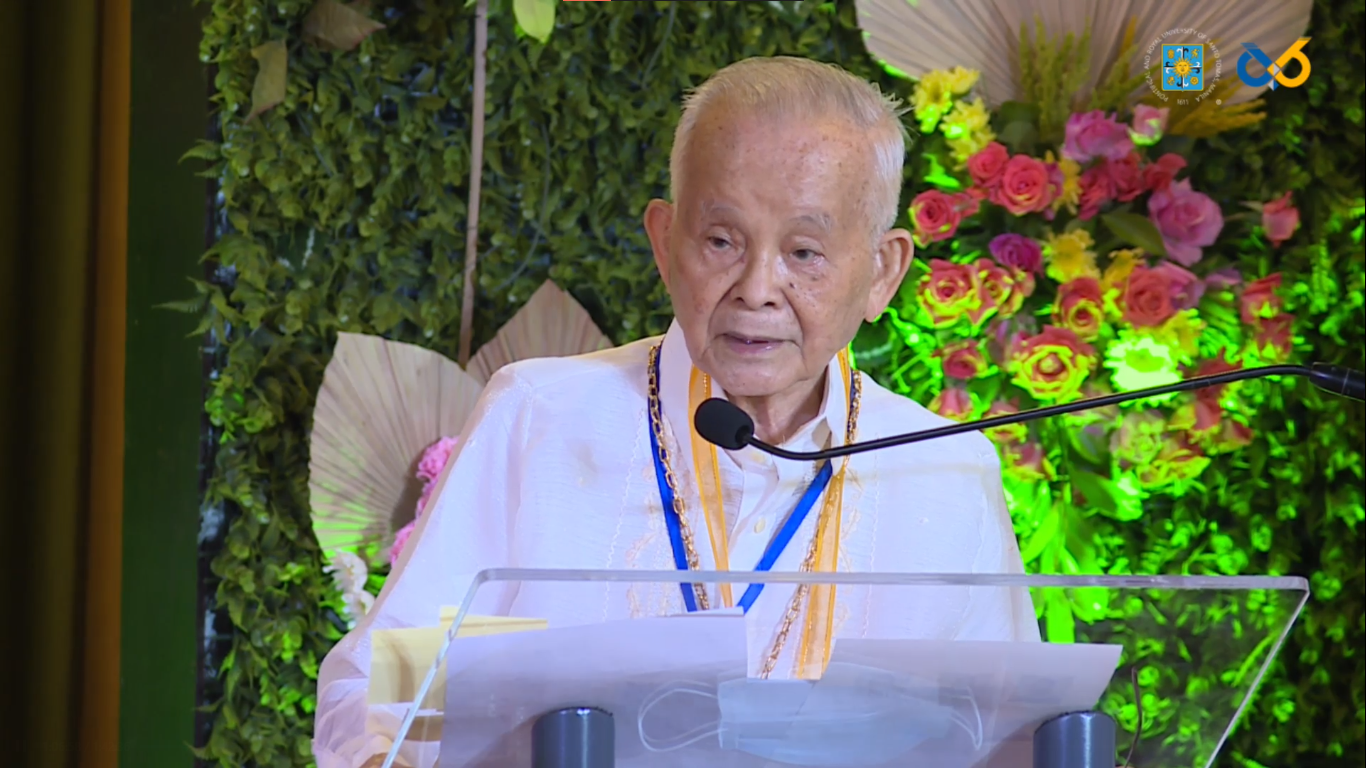 Thomasian journalist and educator Crispin Maslog delivers his speech during the UST 2022 Outstanding Alumni (TOTAL) Awards last May 14
AMIC Board of Directors Chair Dr. Crispin C. Maslog received the 2022 Thomasian Outstanding Alumni (TOTAL) Award for Media. The Award is the highest honor bestowed by the University of Santo Tomas (UST) upon Thomasian Alumni in recognition of their significant and exemplary contribution to the society and the Church.
Founded in 1611, UST is one of the oldest universities in the world.
Dr. Maslog received the coveted award on 14 May 2022 along with nine other outstanding alumni.
In his message, UST Rector Very. Rev. Fr. Richard, G. Ang, O.P., PhD called the Outstanding Alumni awardees as living treasures of the University and beacons of truth and charity. "Their respective contributions speak for themselves as they mirror the splendor of their true worth and dignity in God's image. They are indeed living treasures of the University and living examples of what the University stands for: Veritas in Caritate," Fr. Ang said.
Dr. Maslog expressed his gratitude to AMIC colleagues and friends who conveyed their best wishes, "You did make my day complete and outstanding. I hope to shake your hands again somewhere sometime."
Maslog obtained his journalism degree from the University of Santo Tomas in 1956.  He obtained his MA and PhD in Mass Communication from the University of Minnesota, USA, as a Fulbright-Smith Mundt scholar.
He then returned to the Philippines to serve as the first Director of the Silliman University School of Journalism and Communication, in Dumaguete City, Negros Oriental, central Visayas, the first school/department of journalism/communication founded outside Manila and devoted to training professional journalists for the regional press.  Maslog focused his early research and writings on the need to strengthen the Philippines regional press.
After some 15 years at Silliman, Maslog joined the University of the Philippines Los Baños as professor and later the Asian Institute of Journalism and Communication in Manila as academic vice president. A prolific researcher, author and editor, he produced some 40 books.