From Whistleblowing to Nuclear Accidents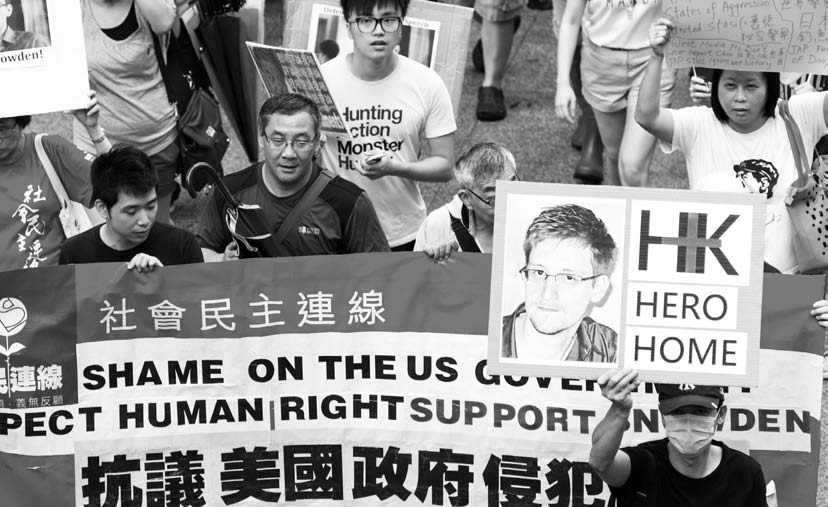 Should whistleblowers, such as the American intelligence analyst Edward Snowden and US Army Private Bradley Manning, be treated as heroes or traitors?
The debate on Government secrecy and the public's 'right to know' is given an airing in the latest edition of AMIC's quality, quarterly journal, Media Asia. In an article on recent global controversies which have placed the spotlight on the power of individuals to expose high-level corruption and other activities, Suruchi Mazumdar examines the rationale for protecting whistleblowers and also questions Asia's 'patchy record' in this field.
Also in Media Asia Volume 40, No. 3, Editor-in-Chief, Professor Cherian George, interviews Asian-American scholar Dr. Kyu Ho Youm on the influence of America's First Amendment values and the issue of free speech in Asia.  Media Asia also features insights on Media and Gender by Universiti Sains Malaysia Deputy Dean, Dr. Azwan Azmawati, while Amartya Sen's value to media scholars is a topic explored by Professor Shakuntala Rao of the State University of New York.
Research papers included in this issue examine a wide range of mass communication fields.  Among these, Dr. Theodore Fernando, of the Open University of Sri Lanka, looks at the influence of editorial cartoons on that country's recent national elections, while Dr. Khairiah Rahman, of the Auckland University of Technology, discusses crisis communication and media reportage in light of issues surrounding a disruption to Singapore's Mass Rapid Transit system. Japan's nuclear accident woes are examined by Dr. Muneo Kaigo and Ms. Dragana Lazic as they take a closer look in their research paper at US press coverage of the Fukushima nuclear power plant accident.  
Media Asia Vol. 40, No. 3, also offers readers case files on health communication, a comparative analysis on advertising in Vietnam, Laos and Cambodia, and book reviews of recent noteworthy publications. Media Asia is available for purchase on-line at www.amic.org.sg
Prestigious AJF Programme for 2014 Now Open

The Singapore-based Asia Journalism Fellowship (AJF) programme is now seeking applications from mid-career journalists from throughout Asia for its 2014 round.
The AJF provides opportunities for 15 exceptional media professionals to undertake three months of studies and to pursue individual projects at the Wee Kim Wee School of Communication and Information at Nanyang Technological University in Singapore. The Fellowships are fully sponsored by the Temasek Foundation and NTU.
"We are eager to welcome our next cohort of Fellows," said AJF Director Dr. Cherian George. "Every year, they arrive as strangers from more than a dozen Asian countries. After three months, they leave enriched by the programme and by one another, and the knowledge that they are part of a special fraternity."
The programme allows Fellows to take part in seminars and workshops designed to sharpen professional skills and deepen their understanding of key trends shaping their profession. Eased of their usual deadline pressures, Fellows also get to work on an independent project and pursue their intellectual interests, guided by professors and other experts on and off campus.
Professor Charles Salmon, Acting Chair of the Wee Kim Wee School, notes that "Fellows will be able to make use of the School's wealth of learning resources, tap the expertise of colleagues who are breaking new ground in communication research, and interact with outstanding students. The AJF programme is one of the true highlights of the year in our School, and we look forward to meeting a new group of inspiring professionals from all over Asia who share our passion for journalism and media."
The Wee Kim Wee School is home to the WAN-IFRA Newsplex Asia, a prototype newsroom for developing strategies for getting the most out of media convergence. AJF's 2014 programme will include workshops that take advantage of this new facility. AJF also provides access to key newsmakers in Singapore's public sector, business community and civil society, offering insights into the challenges faced by one of Asia's most cosmopolitan hub cities.
"Year after year, the AJF Fellows have shared how the programme has helped them professionally and personally," said Benedict Cheong, Chief Executive of Temasek Foundation. "It has been enriching to see how the Fellows engage each other in lively discussions on the social, economic and political issues of the day in their communities."
So far, 77 journalists from 15 different Asian nations have taken part in the AJF. Applicants for the 2014 programme, which will run from 17 March to 6 June, should have at least five years' of experience and be poised to make a difference in their profession and their home country on their return. Applicants are welcome from any news medium – newspapers, magazines, television, radio or the web.
 Full details about the programme are available at www.ajf.sg. The application deadline is 25 October.
Digital Journalism Under The Spotlight
The shift of journalism to the digital stage is the focus of the inaugural Digital Journalism World 2013 conference to be held next month in Singapore (7-8 October).
The conference seeks to highlight new approaches to journalism as the profession embraces new technologies and innovations in the digital sphere, while leaving old paradigms behind.
Topics for discussion include Visual Storytelling, Working with Social Media & Citizen Journalism,  Understanding Digital Ethics, Integrative Models of Mainstream and Online News, the Rise of Mobile Journalism and New Tools of Change, and New Newsroom Workflows.
AMIC is a media partner of Digital Journalism World 2013. More conference details at: www.digital-journalism-world.com
Tokyo to Host Ripe Conference
Visions for the future of public service broadcasting will be discussed at next year's RIPE@2014 conference in Tokyo.
Jointly co-hosted by Nippon Hoso Kyokai (NHK), the national broadcaster, and Keio University's  Institute for Media and Communication Research, the RIPE @2014 event takes the theme Public Service Media (PSM) Across Boundaries.
RIPE is an acronym for Revisionary Interpretations of Public Enterprise, a collaborative project launched in 2001 to enable scholars and public broadcasters to discuss the future of public service broadcasting. The Tokyo conference will be the 7th biennial RIPE conference (27th-29th August, 2014) and the first ever RIPE meeting held in Asia.
Under the theme PSM across Boundaries, scholars and practitioners of public service media from Europe, North America and the Asia-Pacific region will exchange opinions and views on challenges PSM is facing in the era of globalization and digitalization. It will particularly explore Asian perspectives and conditions of PSM.  
The Call for Papers for the conference is now open and organizers are inviting contributions on a range of dimensions, including cross-boundary issues in PSM policy and governance, transnational audiences, citizen journalism, convergence, and PSM in new and young democracies. Abstract submissions are due by 10th January, 2014. For more details, please visit http://ripeat.org/conference2014/
CSC Awards Seek Nominations
'Unsung heroes' are being sought by the University of Queensland in Australia for its annual Communication and Social Change Award.
The Award acknowledges outstanding and innovative individuals and organisations using communication and ICTs in communities to create meaningful change and facilitate social, economic and technological development.
The Award is the only one of its kind in the world and recognises those who have demonstrated extraordinary commitment to using communication to transform and empower marginalised communities. It is an initiative of the Centre for Communication for Social Change (CfCSC) at the School of Journalism and Communication, within the University of Queensland in Brisbane, Australia.
The Award is judged in an individual and an organisational category and consists of a cash prize of AUD$2500 and a travel package to participate in the Award ceremony in Brisbane. Those awarded can be either practitioners working in the field, or theorists.
Nominations for the Communication for Social Change Awards 2014 close on Friday November 29.  More details at:  http://www.uq.edu.au/ccsc/howtoapply
AMIC Partners with UNESCO in Global Forum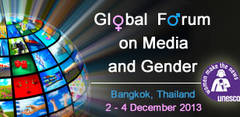 AMIC has been selected as a regional partner for UNESCO's Global Forum on Media and Gender to be held in Bangkok, Thailand in December.
The conference, which will bring together hundreds of leaders and decision-makers in media, human rights and civil society organisations, governments, UN agencies, and business firms, will evaluate trends in gender inequalities in the media and formulate collective and creative solutions to reduce gender disparities.
According to UNESCO, the Global Forum is part of broader and continuing efforts to empower women and reduce gender inequalities, given the potential of both elements to advance economic and social development. The urgency of this event is reflected not just in the timing but also in the issues to be discussed and the calibre of international stakeholders being brought together to build a coalition to push for action to reduce gender inequities in the media.
The Global Forum on Media and Gender (2-4 December) will be hosted by the Kingdom of Thailand National Commission for UNESCO and the Thammasat University. More details at: http://www.unesco.org