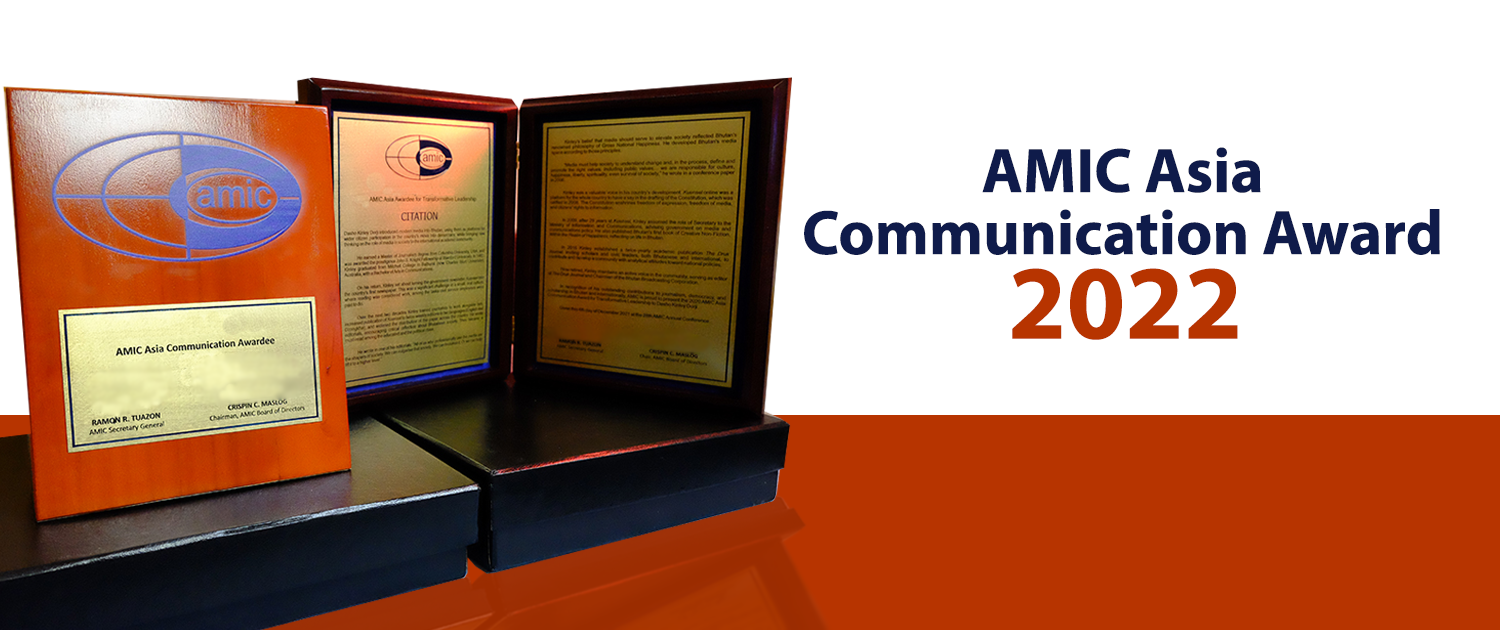 The  Asian  Media  Information and  Communication  Centre, Inc.  (AMIC) is an international non-government organization (NGO) committed to communication media development in the Asia Pacific region.  
Established in 1971 as a non-profit NGO and a registered charity in Singapore, AMIC promotes an ethical and socially responsible communication media sector committed to the tenets of freedom and democracy in a socio‐culturally diverse region.  
AMIC envisions itself to be the premier Asia-centered policy provider, resource platform, and training institution, for communication media education, research, and professional development. 
It seeks to provide a platform for and facilitate the development, sharing and exchange of learning resources on communication media within and outside the Asia Pacific region. 
AMIC's mission is to nurture and promote communication media research, capacity building, knowledge management and dialogue among academic, industry, government, and civil society. 
AMIC seeks the development and enrichment of communication theories, models, strategies, and practices reflecting distinct Asia-Pacific perspectives, and building on the contributions of Western models and theories. 
AMIC established the AMIC Asia Communication Award in 2006 to recognize outstanding achievements in various media and communication fields and categories. These achievements include contributions to research, education, institution development, and, a journalism excellence. 
Since its inception, the award has conferred to 22 communication scholars, educators and practitioners whose contributions are focused on a single country within Asia-Pacific, a region within Asia, or the whole of Asia-Pacific. While the nominees need not be from Asia Pacific, preference were and will be accorded to regional actors. 
In 2018, award categories were updated to reflect recent developments in the field and include contributions apt to the times. Awards are given in the following categories: 
A. Truth in Journalism Award (formerly Journalism Excellence Award)
Commitment to the principles of free and independent journalism
Excellence in the practice of the journalism profession
Contribution of writings to development, freedom, and democracy
Recognition as an exemplar especially to young journalists 
B. Transformative Leadership Award (formerly Institutional Development Award) 
Definition and sharing of a vision to the entire organization or community
Exemplary values, beliefs, and practices that inspire and motivate change
Introduction of pioneering and "disruptive" policies, systems and procedures, products and services
Challenging the status quo by offering, encouraging, and pursuing innovation and creativity 
C. Teaching Hero Award (formerly Communication Education Award) 
Extensive service and passion to the communication teaching profession
Recognition of impact to professional lives of former students
Contribution to Asian communication theory/model building and development
Outstanding outputs including offline/online textbooks, references, modules, etc.
Introduction of innovative and creative communication teaching strategies and tools 
D. Disruptive Inquiry (Communication Research) 
Contribution to new information and knowledge (original research) in communication
Recognition of pioneering contributions to communication research & development
Recognition of quality communication research outputs
Consistency in the use of scientific research methodologies
Significant impact of research outputs to the communication discipline and society in general
Integrity of researchers (individual or institution) 
Past awardees include eminent communicators and journalists:
Dr. John Lent (USA), 2006
Prof. Eddie C. Y. Kuo (Singapore), 2007
Dr. Nora Quebral (Philippines) and Dr. Florangel Rosario- Braid (Philippines), 2008
Dr. Binod Agrawal (India) and Dr. K. E. Eapen (India), 2009
Dr. Hidetoshi Kato (Japan), 2010
Dr. Georgette Wang and Dr. Crispin Maslog (Philippines), 2011
Tan Sri Dato' L. Krishnan (Malaysia), 2012
Dr. Alwi Dahlan (Indonesia)  and Mr. Jakob Oetama (Indonesia), 2013
Mr. Juan L. Mercado (Philippines), 2014
Dr. Alan Hancock (United Kingdom) and Dr. David Robie (New Zealand), 2015
Dr.  Dhavalasri Shelton Gunaratne  (Sri Lanka), 2016 (for Research and Education)
Mr. Wijayananda Jayaweera (Sri Lanka), 2017
Fr. Franz Joseph Eilers (Germany) for Transformative Leadership and Mr. Charlie Agatep (Philippines), 2018 (for Transformative Leadership)
Dr. Leela Rao (India), 2019 (for Teaching Hero Award)
Dasho Kinley Dorji (Bhutan), 2020 (for Transformative Leadership)
Dr. Wimal Dissanayake (Sri Lanka/USA) 2021 (for Disruptive Inquiry -Communication Research)
Please accomplish the linked nomination form available at https://amic.asia/amic-communication-awards/.
Send the accomplished form, together with a nomination letter to info@amic.asia. The closing date for nomination is on 30 August 2022.